Radio industry raises a glass to Charonike
She collects awards on a regular basis. No, hearing her name called, asking her to come on stage is nothing new to Charonike Nel, station manager at PukFm 93.6 – the radio station on the North-West University's (NWU's) campus in Potchefstroom.
At the recent Liberty Radio Awards at the Sandton Convention Centre on 22 April PukFm entered the evening with 12 nominations and left it with four awards. This was the most nominations in the rich history of the station, and included a nomination as Station of the Year.  
Red Wine Sunday, Charonike's brain child, which she presents as well, received the awards for Best Weekend Programme and for Best Music Programme. In addition, Charonike was made a member of the Bright Stars Club. This club honours persons younger than 35 who have made a significant contribution to the industry. Another member of the PukFm team, Annelu le Roux, received the award for Best Daytime Show for the programme International Top 40.
On Friday evening, 12 May, Charonike's name was called out – just like last year – when she received an ATKV Veertjie as Best Presenter of a Campus Radio Programme.
"This is madness. You are still sort of euphoric about the previous win, and then this happens. What was incredible to me, was that when my name was announced as the winner, all the NWU alumni in the audience spontaneously started applauding. You work hard, but you forget about the world out there. You forget that there are people watching what you do. Receiving recognition for something you don't regard as work, for something that is a passion to you," says Charonike.
And Red Wine Sunday is definitely her passion. 
"What makes the programme different, is that it is intimate. From 21:00 to 24:00 every Sunday evening this is the closest one can come to talking one-on-one to someone's heart. Last year there was a group of about 15 students who, in the last three weeks before they left the NWU, brought blankets and wine every Sunday evening and sat in front of the office, listening to Red Wine Sunday. They met one another through Red Wine Sunday in their first year and throughout their university career it was part of their friendship. There are 18 000 people who listen to PukFm, but with Red Wine Sunday you talk to one person."
Although there is no shortage of interest in her services, the 26-year-old native of Piet Retief says that her roots are anchored securely in Potch soil. "For the distant future my career is here at the university. Working with students at grassroots level is a tremendous privilege to me. It is something I will not exchange for anything."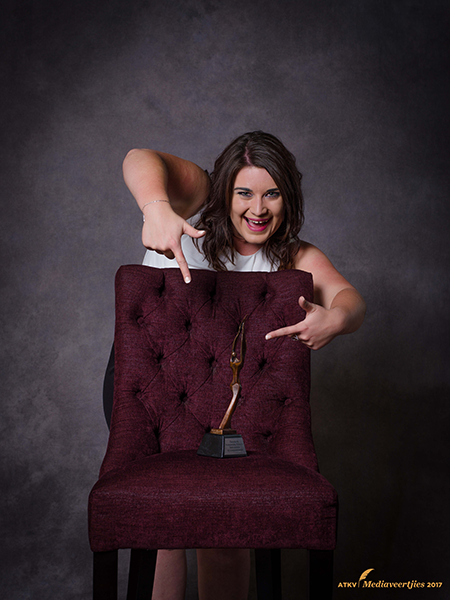 Charonike Nel, station manager at PukFm 93.6, is the proud recipient of an ATKV Veertjie as Best Presenter of a Campus Radio Programme.