Potchefstroom welcomes new Student Campus Council
The North-West University's (NWU's) campus in Potchefstroom recently elected their new student leaders.
During a congratulatory ceremony, members of the Campus Management Committee met the new representatives on the Student Campus Council (SCC) and wish them well on their leadership journey.
The SCC is made up of 15 portfolios and heading up the team is chairperson Heinz Schoeman-Struwig.
The rest of the council members are: Pieter Hatting (deputy chairperson), Cheney Acker (secretary general), Francis Berg (finances), Bianca Visagie (academic council), Matthew van Wyk (residence council), Johan Nel (current affairs), Adrienne Bartlett (marketing and public relations), Zakumi Mtsweni (media and communication), Theunis van Wyk (arts council), Danielle Giorgi (legal officer), Tristen Bourne (council of societies), Benjamin Truter (sport and recreation), Ruandro Minnaar (SRCS) and Zané Botha (RAG).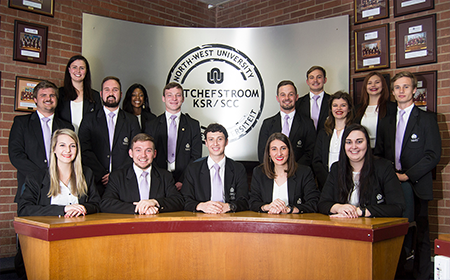 In front are Francis Berg, Pieter Hattingh, Heinz Schoeman-Struwig, Cheney Acker and Bianca Visagie. In the middle are Johan Nel, Matthew van Wyk, Benjamin Truter, Ruandro Minnaar, Danielle Giorgi and Tristen Bourne. At the back are Zané Botha, Zakumi Mtsweni, Theunis van Wyk and Adrienne Bartlett.