From Potchefstroom to Africa
Maggie Jasson from the North-West University's (NWU's) Faculty of Education has proven that beauty pageants are not just about being beautiful.
The 45-year-old has made it into the finals for the Mrs Africa pageant which aims to create a platform where the unique qualities of African women can be showcased to the world.
There are five categories in the competition and Maggie is a finalist in the Mrs Africa Classic category for women between the ages of 40 and 69 years.
"The Mrs Africa pageant is not only about beauty," says Maggie.  "It is about caring for and giving back to your community and country.
"I wanted a platform where I can engage with more people and contribute to their well-being," she adds.  
Maggie says she is extremely happy, overwhelmed and humbled to have reached the finals, especially since a number of other South African women are also taking part.
She will compete against 50 women from across the continent during the pageant final that will take place from 24 October to 3 November at the ATKV Buffelspoort Resort near Rustenburg.
 "People my age tend to give up too easily. I hope my journey will have a positive impact on everyone – not only in my community, but also in the whole of Potchefstroom. There are a lot of young people who are looking up to us and we need to do everything in our power to inspire them," she says.
For the love of modelling
Maggie took part in pageants while in high school and stopped after she matriculated. "I have always been passionate about modelling, but when I was younger there was a misconception that only tall women could be models, so I never entered any beauty pageants after my matric year.
"Over the years that passion for beauty pageants never died, and I started seeing that more and more short women are entering beauty pageants. So I too decided to enter and by God's grace I reached the finals," she says.
Maggie entered a beauty pageant at Crystal Church Ministries last year and ended up in the top three as Mrs Conqueror. This is when she decided to continue with her passion and entered Mrs Africa.
Maggie welcomes any assistance from people or organisations to sponsor her journey towards Mrs Africa. Interested parties can contact Maggie at me124578@gmail.com.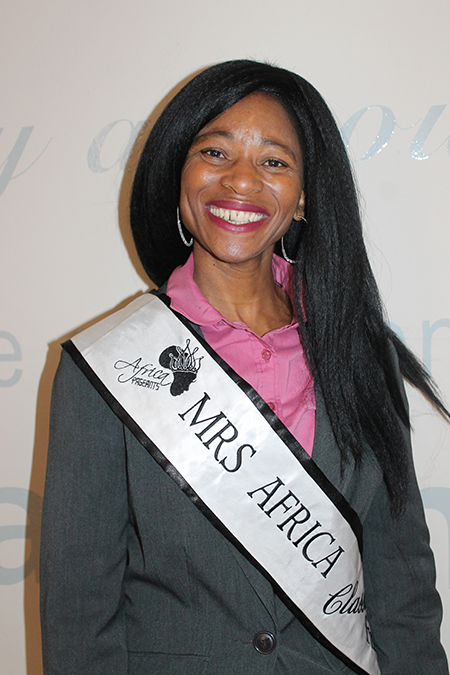 Maggie Jasson is proud and humbled to be a finalist in the Mrs Africa pageant.