Onward and upward for team NWU
Maintaining its scorching track record and number one position in the 2017 Varsity Football tournament, the North-West University (NWU) drew against their third-round opponents, the University of Pretoria (UP Tuks) in Potchefstroom on 10 August 2017.
The NWU team supporters created an electrifying atmosphere on the chilly evening. With their ear-piercing vuvuzela sounds and confident bellows of songs of camaraderie, they left UP Tuks choking on the pitch.
UP-Tuks, desperate to clinch their maiden victory in the tournament, had their hopes crushed by the NWU's sterling defense and team coordination.
"At the beginning of the tournament the team made a commitment to give each match their all," says NWU team coach, Xabaniso Xaba. "We are now three games into the tournament and their mindset is still the same. We take each game as it comes and that is our source of strength. There is no better time than the present and it is evident in our game play."
To say that NWU is one the best teams in this year's tournament would be an understatement. As they go into the fourth round of the tournament to face-off against the ailing UWC, the NWU shows no signs of slowing down or watering down their form.
With two spectacular wins already in the bag and the latest draw against the tournament's hopefuls, UP Tuks, there is no stopping the tournament log leaders in their quest to becoming 2017's Varsity Football champions.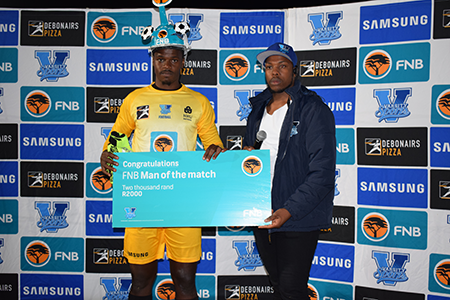 NWU goalkeeper and man of the match, Kennedy Ntuane.
Man of the Match: Kennedy Ntuane (NWU)
Samsung Best Shot: Kennedy Ntuane (NWU)
NWU team list
Goalkeeper: Kennedy Ntuane (1); Gift Mogorosi (4); Mojuda Matlhanyane (15); Wendelle Martin (17); Abongile Lemese (24); Tshepo Makgopela (23); Mogomotsi Molefe (12); Sandile Mbatha (6); Vincent Langa (2); Vusumuzi Ludwala (20); Cameron Chweu (10).
Subs: Luzuko Jevuka (28); Khotso Moleta (5); Tshepo Baholo (8); Paseka Matsheka (26); Omphile Menyatsoe (22); Michael Smit (18); Tebogo Mokgobo (7).
University of Pretoria (UP Tuks) team list
Goalkeeper: Patterson Dylan (32); Motlhatseng Katlego (20); Njokwe Simbongile (5); Ntswane Lawrence (4); Kok Pierre (13); De Almeida Claudio (15); Tsambo Sabelo (18); Mpedi Frank (19); Richard Moremi (11); Nkebe Ludumo (8); Okolo Chinedu (23).
Subs: Hawes Daylan (GK) (1); Makha Odwa (17); De Mondeca Leonel (22); Sosibo Siphesihle (2); Nkwana Jeremiah (10); Siluma Khumbulani (3); Mphahlele Clinton (21).