NWU works towards rooting out racism
The Ahmed Kathrada Foundation, which is part of the Anti-Racism Network South Africa, hosted a #RootOutRacism dialogue at the North-West University's (NWU's) campus in Potchefstroom on 17 March 2018.
The dialogue was part of their Anti-Racism Week* campaign, during which they travelled throughout the country, to create public awareness about racism and how it affects individuals and the broader society.
Members of the NWU Student Representative Council from all three campuses were invited to participate in the discussions.
"The objective of this dialogue is to encourage conversation among students, to get them to listen to each other and to find possible solutions for this problem," said Neeshan Bauton, CEO of the Ahmed Kathrada Foundation.
He added that the foundation approached the NWU with the intention to give students the platform to open up, and to create a base for the university from where it can start tackling these issues before they become a crisis.
"We hope that students will share the information and new insight they have gathered with their families and community members. The foundation is also grateful for the opportunity to facilitate the #RootOutRacisim dialogue at the NWU," concluded Neeshan.
 * Anti-Racism Week ran from 14 to 21 March.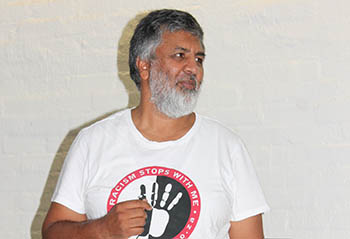 Neeshan Bauton, CEO of the Ahmed Kathrada Foundation, addressing the audience during the #RootOutRacism dialogue.