NWU Wellness promotes a healthy lifestyle
Engaging co-workers in a healthy physical competition is a great way to encourage wellness.
Some of the North-West University's (NWU's) staff recently took part in a Pedometer Challenge as part of encouraging a healthy lifestyle.
This challenge was facilitated by the NWU's Wellness office and was sponsored by BESTMED.
The aim of the Pedometer Challenge was to increase physical activity and particularly walking among staff, encouraging them to walk 10 000 or more steps per day. The challenge ran for 10 weeks from 12 September to 14 November across the three NWU campuses.
Each day, participants kept track of their number of steps by using a pedometer. Participants had then to record their total steps weekly on every Tuesday. The participating teams managed to reach the acquired amount of steps by participating in different events such as marathons, fun runs and campus walks.
The four last-standing staff members who were announced the winners of the challenge were PAN Mabille, PG Mpolokeng, Olebogeng Tladi and Tshepo Moshodi.
"Pedometer challenges are practical because they don't require people to take on a new hobby like running," says Kehumile Katametsi from the NWU Wellness office. "Walking is something that employees do at work anyway."
She says wearing a pedometer can benefit employees by helping them assess their activity level and motivating them to move more. "This challenge encouraged them to look for new and exciting ways to take more steps throughout the day. They were be surprised at how many opportunities there are to get moving!"
Engaging in regular daily activity results has many health benefits. These include stress relief, lower blood pressure and cholesterol, blood sugar control, improving bone density, decreasing body mass index, and lowering the risk of cancer, diabetes and heart disease.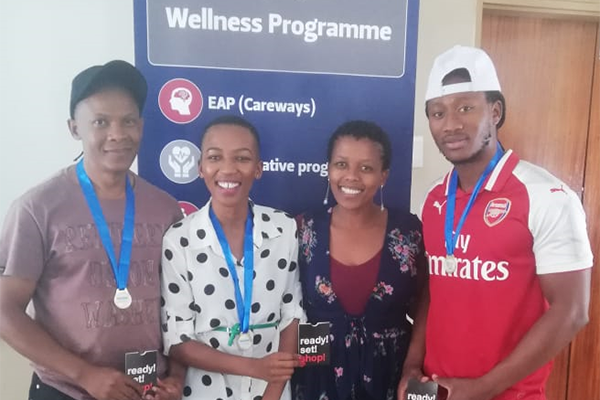 PAN Mabille, Kehumile Katametsi, Olebogeng Tladi and Tshepo Moshodi are the winners of the NWU Wellness office's Pedometer Challenge.