NWU is Varsity hockey champion!
Drama, drama and more drama. Thereafter, joy. On Monday night, 20 May 2019, the North-West University's (NWU's) women hockey team was crowned Varsity hockey champions after beating Maties 2-1 in an exhilarating game, decided by a penalty shootout.
This impressive victory in Stellenbosch will be remembered for years to come. With none of the teams able to score a goal during play time, it eventually came down to a penalty shootout to determine the winner.
 Although every nail across the NWU were bitten to the quick, this was what finals are made of. Especially if you have Kirsty Adams and Clarise Smit in your team.
Both of these sharpshooters were spot-on with their attempts, and the main reason why captain Charné Maddocks and her troops could smile broadly.
Kirsty was also named Player of the Match.
It can be argued that the NWU should have scored early in the clash and especially before playing time ran out, but if the score looks like this, nobody is going to complain.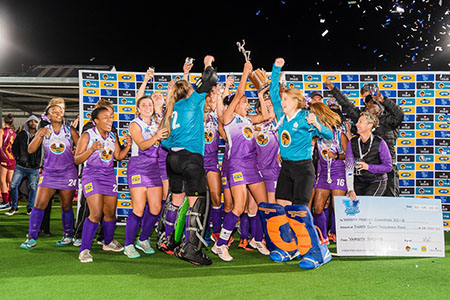 The NWU is the Varsity hockey champion for 2019.