NWU Vaal Senior Basketball Tournament a display of sporting talent
Reach for the sky or don't even try.  This well-known basketball saying rang true during the recent high-profile NWU Vaal Senior Basketball Tournament which took place at the Harry Gwala Sport Centre in Sasolburg. This year marks the third rendition of the tournament and saw Sasol and Anglo American coming on board as the main sponsors of the event.
The three-day tournament saw women and men competing in two divisions, namely: Division A and Division B. The Vaal University of Technology (VUT) did the region proud with their women's and men's teams reaching the finals. The North-West University's (NWU's) campus in Vanderbijlpark also held their own with their men's and women's teams reaching the semi-finals.
The team to beat was the Randburg Rhinos who trampled the team from VUT by 75-48 during the thrilling final round. The Rhinos and VUT advanced to the final round by beating the NWU Vaal Wolves by 35-32 and the Tshwane University of Technology (TUT) by 28-17.
In the ladies' final the reigning champions V&J edged past VUT with a 55-52 win. During the semi-finals VUT and V&J respectively defeated Braam Marines 28-23 and the NWU Vaal Patriots 25-15 to advance to the final round. In the women's play-offs for third place, the Braam Marines snatched a win from the NWU Vaal Patriots by beating them 44-41. In the men's play-off for third place the NWU Vaal Wolves defeated TUT by 57-45.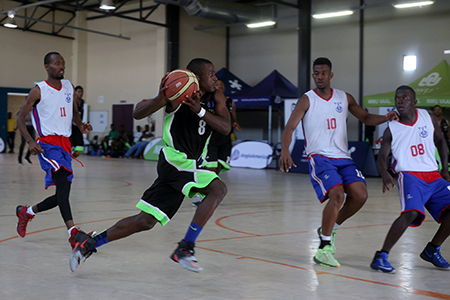 NWU Vaal Wolves and TUT in action.
Photo credit: Ettienne van Rensburg