NWU Vaal making rugby dreams come true
For third year education student, Nico "Spekkies" van Tonder, the year 2017 could not have started any better. Nico, who plays for the NWU Vaal Rugby Club, will be joining the North-West University's Varsity Cup squad for the 2017 rendition of this very competitive and prestigious competition.  
According to a very excited Nico, his call-up to the NWU team is a "dream come true". "I have been playing rugby since I was six years old and see this opportunity as a very good launch pad for my future playing career." He plays in the prop position.
As an education student, Nico has had the opportunity to also dabble his hand in coaching and enjoyed a very successful stint as rugby coach at Emfuleni Primary School in Vanderbijlpark and High School Jan Viljoen in Randfontein.
Prof Linda du Plessis, Campus Rector (acting), wished Nico all the best on his new adventure and said that his achievement speaks to the quality of sport practiced on the campus.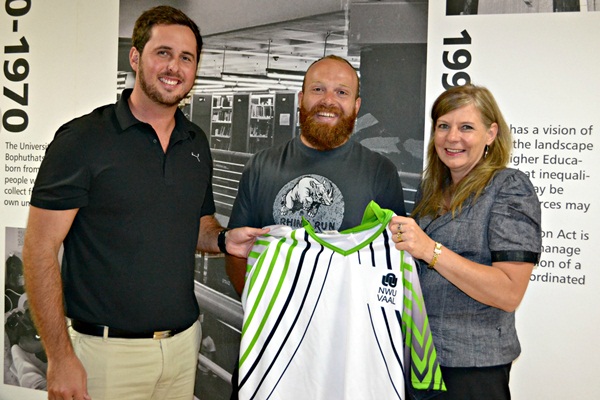 Shaun Meijer (NWU Sport), Nico van Tonder and Prof Linda du Plessis (Campus Rector)
Location
Vaal Triangle Campus
Hendrik van Eck Blvd
Vanderbijlpark
South Africa