NWU unveils new nursing building
Prof Dan Kgwadi, vice-chancellor of the North-West University (NWU), led the celebrations on the Mafikeng Campus, on 30 March 2017 during the unveiling of its new nursing building.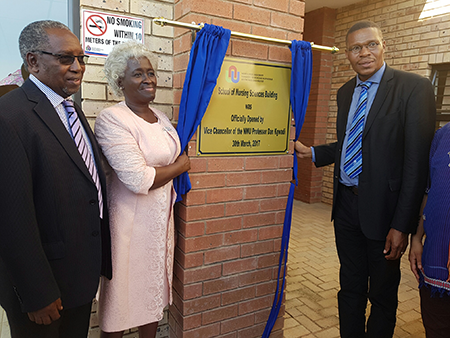 Unveiling the new nursing building plaque are Prof Sevid Mashego, Prof Mashudu Davhana-Maselesele, campus rector, and Prof Dan Kgwadi, vice-chancellor.
In her introductory address, Prof Helen Drummond, acting dean of the Faculty of Agriculture, Science and Technology, said: "although this building was completed in 2015, we felt it was important to have a public occasion to celebrate the building, the staff and students, and the accomplishments of Nursing Sciences over the past 30 years."
Also in attendance was Dr Magome Masike, the provincial Member of Executive Council (MEC) for Health, who also took to the podium. In his address, he congratulated the campus management and its stakeholders on "a ground-breaking achievement which will surely contribute significantly to the deficit in the national health profession."
A qualified medical doctor with a career spanning over 30 years, Dr Masike also said: "I appreciate that the university takes nursing education seriously. This is further demonstrated by today's occasion. As a country we are in dire need of nurses to combat diseases and improve the state of preventative health care. I believe we can overcome all obstacles with adequate health professionals, particularly nurses, and by working together.".
Speaking at the event, Prof Kgwadi also took the opportunity to allay uncertainties regarding the newly promulgated and published Statute that will see all three campuses of the NWU working toward a unitary system of one dean, one faculty as envisaged in the university strategy.
"This is simultaneously a message of gratitude for what has been achieved in the past, and a message of hope for what we are working towards. The NWU is a place for optimists and problem solvers; a place for achievers and leaders. Leave your comfort zones behind and embrace the challenges that no longer merely 'lie ahead', but are already part of our lives," he added.