NWU trains municipal officials in solar technology
A group of municipal officials from various technical departments attended the first ever solar training workshop specially developed for municipalities. Local governments from all over the country were represented during the three-day course at the North-West University (NWU).
The Deutsche Gesellschaft für Internationale Zusammenarbeit (GIZ) GmbH, awarded the training project to SUNCybernetics' Solar Training Centre and the NWU's Faculty of Engineering in 2016; to develop and present customised technical PV solar training to municipal officials. More than 60 officials from almost 40 municipalities have been trained to date.
According to Faure van Schalkwyk, an energy research engineer at the NWU, there is a positive and progressive uptake from municipalities where the knowledge and experience about solar technology is concerned.
The intention of the training is to enhance the knowledge of municipal officials to understand how PV solar works, to empower them to assist, guide and manage integration of PV solar on their distribution grid and to provide insight on the status quo regarding relevant standards, guidelines and regulations. "We equip the trainees with necessary documents to help ensure that PV solar systems are safe, reliable and ultimately build relevant skills by practically applying what was discussed and learned," Faure says.
The workshop also included a visit to the training PV solar systems and the Food and Energy training centre situated at the Faculty of Engineering.
One of the attendees, Jack Monnakgathi, advisor for municipal infrastructure and services at the South African Local Government Association, said he was impressed by the excellent training facilities and the very knowledgeable facilitators on Solar PV. "We need to learn more about the benefits of solar technology as this hold huge benefit to various communities."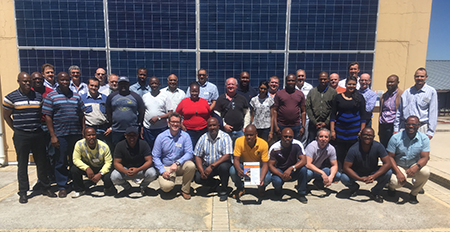 Eskom, SALGA, GIZ and various municipalities were represented at the Technical PV solar training for Municipalities.