NWU tourism expert receives international Lifetime Achievement Award
Prof Melville Saayman, director of the research focus area Tourism Research in Economic Environs and Society (TREES) at the North-West University (NWU), recently received Tourism Educators of South Africa's (TESA's) first Tourism Educators Lifetime Achievement Award during the International Tourism Scholars Association (ITSA) conference held in Pretoria.
TESA represents all the tourism programmes at the various universities in South Africa. It has been in existence for more than 10 years and aims to promote tourism education and research at South African universities. 
ITSA is an international organisation for tourism scholars that, like TESA, encourages tourism development and promotion as a discipline at international level.
The Lifetime Achievement Award is presented to academics who have been in academia for a long period of time and who have made a significant contribution to tourism education and research in the country, developing and establishing it as a discipline. Both TESA and ITSA adjudicated the award, giving it international acclaim.
This particular category was only added this year and Prof Saayman was the very first recipient. He was one of two recipients of this award. The other recipient was Prof Ernie Heath; a retired tourism professor from the University of Pretoria.
"Being the first recipient of this award came as a huge surprise to me," said Prof Saayman. "I am grateful for the acknowledgement for the hard work that goes into establishing tourism as a discipline – specifically at the NWU, - but also at other tertiary institutions in the country."
"This is also an acknowledgement for the role that the School of Tourism and TREES play in taking tourism education and research to the next level. I am blessed to work with a great team of people. Without them, our progress would not have been possible," he added.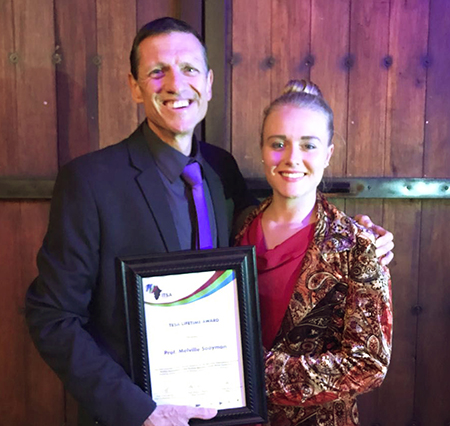 Prof Melville Saayman accompanied by his daughter.