NWU students lead digitisation in the NGO space
Technology plays a very important role in every organisation and should be accessible to all, allowing them to operate more effectively.
Taking heed of the North-West University's (NWU's) mission of implementing an ethic of care and community engagement through innovation, a group of students recently helped the Obakeng Disability Centre, a non-governmental organisation (NGO) based in Manthe village, Taung to digitise the centre's operations.  
Seolebaleng Mashodi, Kamano Masemola, Mthokozisi Mathe, Mandla Matshiane and Samson Mawisire, started this project as part of a group assignment for their Information and Management Systems module.
For this assignment they had to identify an NGO and then introduce them to available technologies that would help them function more efficiently.
"It is important for organisations to have a digital footprint, and since the Obakeng Disability Organisation lacked this, we decided to create a social media platform and a new logo and brochures for them."
The founder of the centre, Lasita Tong, says she is very grateful for the assistance they received.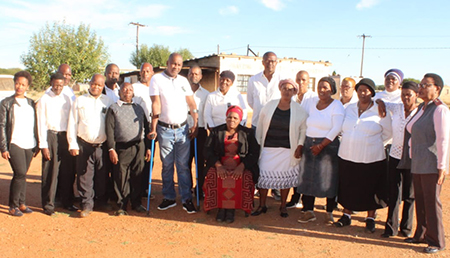 The team of NWU students with staff members of the Obakeng Disability Centre in Taung.