NWU student wins big during entrepreneurship roadshow
Karabo Seleka, a master's law student from the North-West University's campus in Mahikeng, won R10 000 with his business idea during the Department of Higher Education and Training's (DHET's) national roadshow held at the campus on 21 September 2018.
The DHET's Entrepreneurship Development in Higher Education (EDHE) programme, in partnership with universities, is hosting these one-day national SEW Roadshows at the 13 most rural South African universities from 19 September to 10 October 2018.
These roadshows are aimed at raising awareness on entrepreneurship as a career and a means of participating in the economy, against the backdrop of graduate and youth unemployment.
Through an edutainment programme, presented by the Pride Factor Life Skills Academy, and entrepreneurship-focused activities, students were alerted to the fact that they can try their hand at entrepreneurship while pursuing their studies, creating a springboard into the world of business after completing their studies.
During the roadshow, 10 students had the opportunity to pitch their business ideas in two minutes to a panel of judges.
Karabo's winning pitch was based on his business – D.A.R.E Entertainment – a modelling, recording, production and media management agency.
"Judging short pitches is often challenging, especially when given a limited time to do so," said Dr Norah Clarke, entrepreneurship programme director at Universities South Africa. "Our judging criteria included addressing a real need with a viable financial strategy, and the proposed approach to the business. Karabo did a good job and walked away as the winner."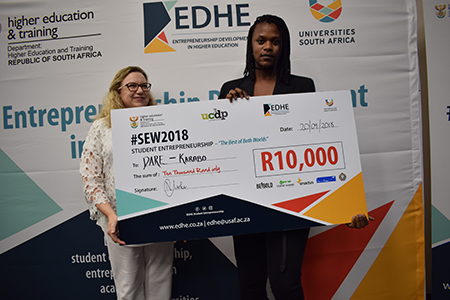 Dr Norah Clarke, entrepreneurship programme director at Universities South Africa, hands over Karabo Seleka's cheque of R10 000.