NWU Student Campus Council pays tributes to HHP
Hip hop artist Jabulani Tsambo's voice is quiet now, but not forgotten. The memory of his loving support for NWU students will live on in many grateful hearts.
The Student Campus Council (SCC) on the North-West University's (NWU's) campus in Mahikeng joined thousands of fans, friends and family to pay tribute to hip hop artist, Jabulani Tsambo on 1 November 2018 during a memorial service held at the Convention Centre in Mahikeng.
Jabulani, affectionately known as "Jabba", passed away on 24 October 2018. Better known by his stage name Hip Hop Pantsula – later shortened to HPP – Jabulani was a South African Motswako rapper who performed in several languages, mostly in Setswana.
Student Representative Council president and SCC chairperson Leo Maphosa said it was a moral obligation they had to respond to.
"HHP chose to associate with us when it was least fashionable," said Leo at the memorial service. "When people were lambasting students for the #feesmustfall protests, Jabba was in solidarity with us. He understood that we only wanted doors of learning to be open to all. His Pasopa song and video which he shot with NWU students is testimony to that."
Leo said HHP has always been part of students' extended family. "To him the NWU was a treasure which the community of Mahikeng had to cherish and protect at all times. He was always readily available to lend a hand in any initiative that sought to improve the material conditions of the youth, particularly upcoming artists and the student populace."
Leo also honoured HPP's mother, Ms Theriso Tsambo, who has been a lecturer in the NWU's Setswana subject group until her recent retirement.
Ms Tsambo will always be one of us, and her contributions to the university will always be engraved in the archives of the institution. Even though she has lost a son, she has gained thousands of sons and daughters from the university," concluded Leo.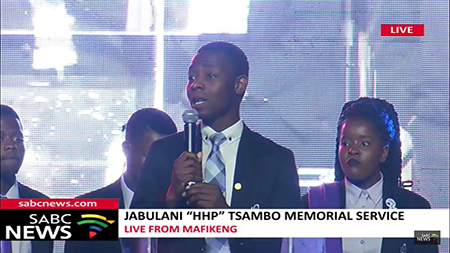 Leo Maphosa, Student Representative Council president and chairperson of the Student Campus Council on the NWU's campus in Mahikeng, address mourners at HHP's memorial service.