NWU Soccer Institute perseveres during the pandemic
The effects of the Covid-19 pandemic continue to ripple through the world's health, educational, financial and commercial institutions, and the sports environment is no different.
The nonstop entertainment ardent fans of university sports have come to expect, came to a grinding halt with the 2020 season of the Varsity Football tournament - ordinarily underway from July to September – also being cancelled.
This was done to safeguard the health of athletes and others involved, and is in line with most major sporting events at international, regional and national levels being cancelled or postponed.
 "At the beginning of the year, the team was in good form and hungry for whatever challenge lay ahead," says Soccer Institute coach Karabo Masehela.
"As the reigning champions, it would have been great to defend our title against this year's fresh talent. However, the upside during these uncertain times is that we remain the tournament champions for longer with this year's season automatically ceded to us – we will claim the 2020/21 season as undefeated champions," he adds.
Coach Karabo says they regularly communicate with the team players and technical team members to keep tabs on how they are faring with regard to their weekly training programmes and diet and to provide academic support.
Sports freelance writer Bophelo Seleke echoes Coach Karabo's's sentiments that, regardless of age, gender or ethnicity, sports is enjoyed by all; its reach is unrivaled.
"More importantly, though, sport promotes universal values that transcend language and culture. Although sporting federations are hard at work trying to resume some form of normalcy, the impact of sports in developing societies is undeniable and something that the ardent fans of the football game will miss for the 2020 football season," he says.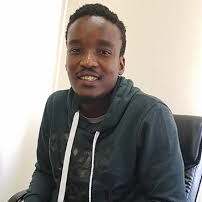 NWU Soccer Institute coach Karabo Masehela.