NWU Soccer Institute alumni gather to honour the beautiful game
Some of the top names in South African football attended the annual alumni gathering of the North-West University's (NWU's) Soccer Institute in Mahikeng.
Held at the institute in June 2018, the get-together saw former institute players, including five Premier Soccer League (PSL) stars, playing two games of football and reminiscing about the good old days.
Among the notable alumni who graced the event were PSL players Thabo Mnyamane of Super Sport United, Thabo Rakhale of Chippa United, Boalefa Pule of Amazule, Luvolwethu Mpeta of Platinum Stars and Xolani Mlambo of Orlando Pirates.
After playing the two football games, one against the staff football club and the other against the present crop of Soccer Institute players, the alumni enjoyed a braai where they engaged with the present players.
Vuyolwethu Sambo, manager of the institute and also an alumnus, said the annual get-together enables alumni players to share their experiences with the current players, as well as to celebrate the achievements of the Soccer Institute over the years.
"Since the inception of the Soccer Institute in 2007, we all have the responsibility as former players of maintaining the spirit and culture of success," Vuyolwethu said. "Therefore, we annually invite all those who had the privilege to be part of the institute, whether they pursued careers in the corporate world or in football, to come and share their experiences."
He said the annual get-together encouraged brotherhood among former and current players and keeps the momentum going towards achieving the goals of the institute and the university.
"We also took a moment to remember one of our own, Masilela 'Touch' Sihlangu, who passed away in 2008."
The alumni all agreed that the institute has been influential in their lives and careers. "The Soccer Institute has played an important role in my development. It helped me to become a well-rounded individual by not only building my soccer career, but also giving me the opportunity to simultaneously pursue an academic programme of my choice," said Xolani Mlambo, Orlando Pirates mid-fielder. "Soccer as a career has proven to be short, so it is also imperative for players to have something to fall back on."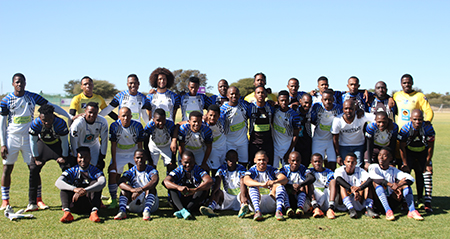 Former players of the NWU Soccer Institute met up with current institute players during the recent alumni event. Here they are after a friendly football match.