NWU signs memorandum of understanding with Ndebele Kingship Council
A Memorandum of Understanding (MOU) was signed between the Ndebele Kingship Council and the North-West University (NWU) on Wednesday, 18 July 2018. An opportunity for cooperation between the Ndebele Kingship Council and the university was identified and the MOU captures the joint interest and establishes a long-term relationship.

The Ndebele Kingship is one of the seven recognised Kingships in South Africa lead by His Excellency King Makhosoke Mabhena (Makhosoke II), with the headquarters based in KwaMhlanga, Mpumalanga Province. 
The Ndebele Kingship Council has appointed a multidisciplinary team of professional service providers to develop and implement a Sustainable Development Master Plan for the Ndebele Kingdom. Africa Geo-environmental Engineering and Sciences (AGES), with a local branch in Potchefstroom, is one of the specialist service providers who will be involved in projects and research for the Ndebele Programme.
The main purpose of the Ndebele Kingdom Development Programme is to assist the Ndebele Kingship Council with the holistic planning and implementation of projects that will lead to socio-economic development. This will be focussed in the Ndebele area of jurisdiction in order to contribute to the development of a strong, independent Kingdom, whilst aligning with all spheres of government.
The Sustainable Development Master Plan will entail addressing mineral opportunities, land assessment and audits, energy, water and sanitation programmes, provision of community services, agriculture, wildlife and tourism programmes as well as training and skills development across various spheres.
The NWU via its Technology Transfer and Innovation Support (TTIS) office and eight faculties can offer various multidisciplinary solutions and support to the Ndebele Kingdom Development Programme and cooperation in various fields will be explored.
Prof Dan Kgwadi, vice-chancellor, says the NWU is not only committed to being one of the top academically excellent institutions in the country, but also to bringing about social justice in South Africa.
He is very proud that the Ndebele Kingship has seen that the NWU is capable and has the capacity to assist them in achieving their goals.
The NWU hopes to integrate academic research with providing support for sustainable socio-economic development for the broader community of the Ndebele Kingdom and Kingship Council, under the leadership of HE King Makhosoke II.
"Signing the MOU on the same day that the country is celebrating the centenary of the birth of Nelson Mandela makes this event even more memorable for us. We appreciate the NWU coming on board and assisting us with our Sustainable Development Master Plan. We look forward to changing lives," said HE King Makhosoke II.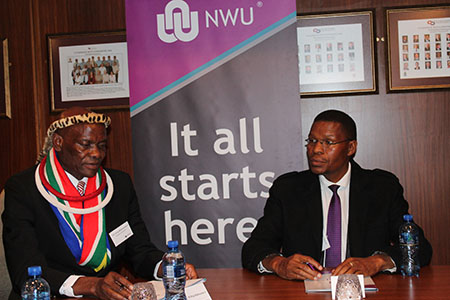 HE King Makhosoke II of the Ndebele Kingdom and the NWU vice-chancellor, Prof Dan Kgwadi.