NWU shines bright at Varsity Athletics Championship
The North-West University (NWU) athletics team flexed their muscles, literally and figuratively, at the recent Varsity Athletics Championships held at the Bestmed Tuks Stadium. The team – comprising members from its campuses in Mahikeng, Vanderbijlpark and Potchefstroom – walked away with a total of nine gold, six silver and four bronze medals.
The NWU boasted the sprinting champs of the day, with Chederick van Wyk taking first place in the 100 m for senior men and Lente Pieterse first in the 100 m for senior women. Denise Hartman won bronze in the 100 m hurdles for women. The two gold medal winners showed their worth again later in the competition: Chederick took the gold in the 200 m for senior men and Lente took bronze in the 200 m for senior women.
Ariane Nel won gold in the 400 m for senior women and Stefan Bruwer took bronze in the same event for men. In the 800 m for senior men, a proud Dillan van Rooyen took to the rostrum to receive his silver medal, as did Rantso Mokopane in the 1500 m for senior men, Cynthia Tsetsewa in the 400 m hurdles for women and Armand van Zyl in the 400 m hurdles for men.
The NWU dominated the 110 m hurdles for senior men in which Alwyn Bothma finished in first place and Tiaan Kleynhans in second. Theodor Young missed the third place with mere seconds. The university also stole the lime light in the hammer throw event for senior men, with Tshepang Makhete finishing first, followed by teammates Alan Cumming and Carel Haasbroek.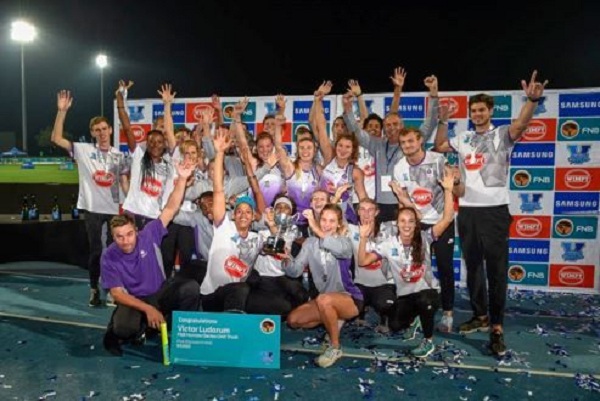 The NWU athletics team
The javelin team also shone proudly, with Jo-Ane van Dyk in first place in the senior women's event, and Erich Wiese in first and Johan Grobler in second place in the men's event. Mpho Links came first in the high jump for men and the men's relay 100mx4 also saw the NWU reap another set of the gold spoils.
The NWU athletics team is proud of what is technically the last team competition of the year. Short rest periods are on the cards for most of the athletes, before they continue their strenuous training schedules in preparation for their