NWU shares lessons on how to confront fraud
The South African Fraud Prevention Services listed a 56% increase in fraud crimes in 2017.At least 70% of men (26-35 years old) make up the number of fraudsters. Women between 36 and 45 make up 33% of victims.
At a time when organisations around the world lose an estimated five percent of their annual revenues to fraud, creating fraud awareness is critical.
Participating in Fraud Awareness Week from 11 to 17 November 2018, the North-West University (NWU) held fraud awareness sessions on each of its campuses. The aim was to educate employees about fraud and how to report it.
The campus in Mahikeng hosted their session for all managers on 15 November.
This session aimed to equip managers with the necessary information and skills to assist the NWU to reduce financial losses and enhance an ethical culture.
"There are many ways to prevent fraud," said Werner Coetzee from Legal Services. "These include developing a written code of ethics, establish reasonable expectations of all employees and having a regular fraud assessment conducted by a qualified fraud examiner and internal auditors."
He says they encourage employees to speak out when they suspect illegal activity.
"There are various platforms where they can report these incidences anonymously.
"Even though fraud cases are difficult to detect, especially in large companies, taking effective measures to deal with a wrongdoer is nonetheless an important consideration in preventing fraud in the workplace."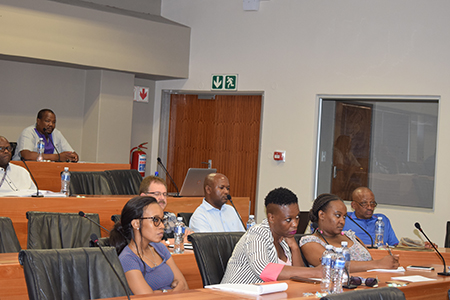 Managers on the NWU's campus in Mahikeng learn more about preventing fraud.