NWU Seminar tackles decolonisation of university education
On Friday, 10 March 2017 the Mafikeng Campus of the North-West University (NWU) hosted a Professionalism Seminar at the Mmabatho Palms resort. The seminar, "Decolonising University Education" was aimed at finding possible approaches and solutions to achieving quality decolonised education in higher learning institutions.
The theme, inspired by the national #FeesMustFall student protests that beset most of the country's universities in 2016, was aimed at addressing the issue of the university's frontline staff who often found themselves faced with frustrated students and directly affected by organised protests as has been the case in the past.
Mr William Mpofu, the keynote speaker at the seminar, spoke about factors that influenced the apparent situation that led students to feel oppressed by the system. These factors included among others lecturers regarding students as 'empty vessels' that need to be filled, instead of humans with a meaningful contribution to make.
He added the fact that only certain (western) books are recommended as intellectual material to the exclusion of others (mostly African that are regarded as controversial and only good for leisure reading), forms part of the bigger problem.
Prof Itumeleng Mekoa from the Faculty of Human and Social Sciences asked if there is still hope of an African education system being realised in this lifetime as this phenomenon is not new. He said students have been protesting and calling for the decolonisation of the education system since the 1970s, and even today, more than 40 years later, the problem is still the same.
In response, Mr Mpofu said that the process of decolonising the education system is not going to be simple, but will need critical archival research to effect change. 
Dr Talkmore Saurombe from the Faculty of Agriculture, Science and Technology and one of the experts on the panel, advocated for the decolonising process to begin at grass-roots level "to change the way young children in primary schools are educated, otherwise the concept cannot work."
Prof Dan Kgwadi, NWU vice-chancellor, said he was grateful for this discussion and was eager to chart these new waters of developing and implementing concepts which speak to a decolonisation of education project. "This, I believe, will aid in shaping our understanding and approach in every aspect of our daily life, work, lectures and learning process."
"The Senate, Council and I will utilise this input to come up with solutions that will help the process of transformation in the newly introduced model of the North-West University," he added.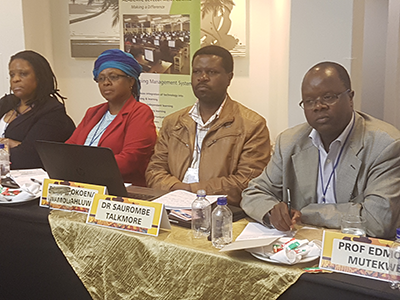 Prof Mamolahluwa Mokoena, Dr Talkmore Sauroumbe, Prof Itumeleng Mekoa and Mr William Mpofu.