NWU Rugby Institute kicks off in Vanderbijlpark
As from 2019 the North-West University (NWU) will expand the geographical footprint of its thriving Rugby Institute, situated at the campus in Potchefstroom, to include the Gauteng province. More so, the university's campus in Vanderbijlpark.
The vesting of an additional site of delivery for the Institute's programmes and services in Vanderbijlpark represents the first phase of a strategic alignment process. During this phase the focus will be on U/20 and U/21 players.
The alignment is the result of high-level negotiations between the university, sought-after coaches in the Vaal Triangle region and several professional rugby players. The following appointments have been made:
•             Dewald Pieters: Head coach – NWU Rugby Institute, Vanderbijlpark
•             Gunner Williams: Coach – forwards
•             Kazlo Holtzhauzen: Coach – kicking
•             Marnus Erasmus: Coach – juniors
The NWU Rugby Institute represents a strategic hub of high performance support to registered up-and-coming rugby players. These registered players represent the Institute at league games and enjoy exposure to provincial and national talent scouts. As a registered player, attention and time is spent on conditioning and skills acquisition on an individual and team level. The latter including attacking and defending skills, first phase play and general game tactics.
The aim of the NWU Rugby Institute: Vanderbijlpark, is to create a conducive professional platform – based on the operational foundation of the Institute in Potchefstroom – to prepare players for the professional rugby environment.
"Professional sport is no longer a side-line interest, but rather a serious career choice," says Sean McCallaghan, NWU sports manager. "As such the expansion to Vanderbijlpark will not only benefit the region, but also prepare players for the competitive professional sports arena."
The Institute will cater to the needs of both university students and private individuals. All potential players must adhere to a selection process and agree to the set terms and conditions (which include a minimal signing fee).
The launch was attend by senior members of the university management and high-ranking representatives of the Valke Rugby Union.
For more information about the NWU Rugby Institute: Vanderbijlpark, contact Shaun Meijer at 016 910 3191 or send an email to Shaun.meijer@nwu.ac.za.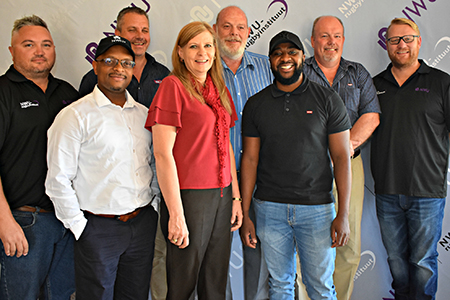 In the front from left are Clement Manoko (Executive Director: Corporate Relations and Marketing), Prof Linda du Plessis (Deputy Vice-Chancellor: Vanderbijlpark Operations), and Prof Ilyayambwa Mwanawina (acting Executive Director: Student Life). At the back from left are Dewald Pieters (head coach), Ettienne de Lange (CEO: Valke Rugby Union), Mervyn Taylor (NWU rugby manager), Jan Wiegand (President: Valke Rugby Union) and Sean McCallaghan (sports manager).