NWU Residence Chapter makes going green their business
How can universities encourage students and staff to think green, act green, and become green leaders?
The Residence Chapter of the North-West University's (NWU's) campus in Mahikeng showed their (green) mettle when they received an honorary award for the Best Creative Programme during the 8th Annual Green Campuses Conference held from 30 June to 4 July 2019.
The conference, hosted by the University of Western Cape in partnership with the Southern Africa Chapter of the Association of College and University Housing Officers International (ACUHO-I-SAC), explored the impact of the Fourth Industrial Revolution on higher education and campus sustainability in particular.
In a world facing climate change, energy challenges and other environmental issues – and one undergoing rapid technological transformation – it's become increasingly important for universities to serve as role models for greening and sustainability.
The Annual Green Campuses Conference is the biggest gathering of and platform for students and staff involved in campus greening and sustainability projects in higher education institutions.
This event offers participants the opportunity to share ideas and to seek feedback from their peers. This is done formally through the delivery of papers and the presentation of poster-sessions, and informally through one-on-one or small group conversations.
"The NWU has been a member of the ACUHO-I-SAC for many years and this was the first time a delegation from Mahikeng attended the event," says Charmaine Mahopo, culture and arts coordinator at the NWU.
She says the conference really inspired them to identify greening residence projects to address challenges within their own living spaces.
"In response to the conference theme and promoting campus greening best practices, the Residence Chapter submitted an abstract with the topic 'The impact of the Green Campuses Initiative in addressing the detrimental anti-social behaviour within NWU student residences: a vegetable garden and grapevine veranda'," adds Charmaine.
She says this topic was underpinned by the rapid proliferation and ongoing transformation of digital technology, which have had a substantial influence on students' participatory culture within residences.
"As such, there is a lack of social interaction, which is contributing to an unhealthy student lifestyle. The project aims to encourage students – on and off campus – to start participating in greening initiatives and to become responsible members of society," adds Charmaine.
Calvin Mothobi, deputy chairperson of the Residence Chapter, says they have learned that going green goes beyond special green projects, academic research and special technology.
"We have to make greening part of our daily lives. Our goal is to excel by focussing on energy efficiency, water conservation, biodiversity, green buildings, green purchasing, green programming, waste reduction and recycling, green leadership and innovation," adds Calvin.
"Embracing a green way of life means thinking of the future – and as green ambassadors that is the vision, we hold for the NWU.
 "Our goal is for the NWU to be the greenest institution of higher learning in Africa."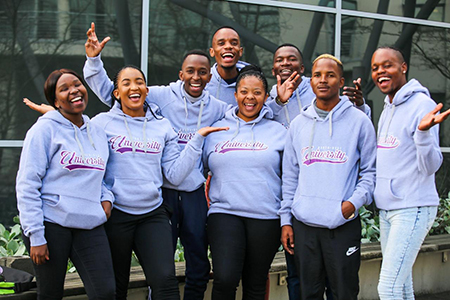 These are the members of the Residence Chapter on the NWU's campus in Mahikeng who are serious about going green.