NWU researchers benefit from Qualitative Analysis Research Forum
Researchers within the new research focus area of the North-West University (NWU), TELIT-SA, is hard at work to not only vest the entity but also to expand its reach and impact. Its latest endeavor entails an intercampus and inter-research support forum.
Recently, TELIT-SA hosted the 2nd Qualitative Analysis Research Support Forum at the School of Music at the NWU's School of Music in Potchefstroom. The forum took the format of an inter-entity and intercampus setting. The delegates were of the opinion that it was a very informative and highly successful workshop on the value implementation and constraints of the construct of Data Saturation in qualitative research.
Five participants presented their views and shared their respective research experiences. In total, participants from six research entities
within the NWU took part in the forum, including:
TELIT-SA (Technology Enhanced Learning and Innovative Education and Training in South Africa)
MASARA (Musical Arts in South Africa: Resources and Applications)
PhASRec (Physical Activity, Sport and Recreation)
EduRight (Education and Human Rights in Diversity)
UARM (Centre for Applied Risk Management)
EEforSD (Environmental Education for Sustainable Development)
The next forum will take place on 10 August 2017 and the discussion theme will be: "Upgrading from ATLAS.ti version 7 to ATLAS.ti version 8: Tips and Topics." All interested researchers can contact Noory Yusuf via email at TELIT-SA@nwu.ac.za
* TELIT-SA is headed-up by Prof Seugnet Blignaut, a seasoned and highly regarded expert in educational technology.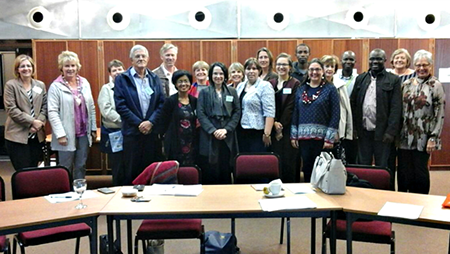 Participants at the recent Qualitative Research Analysis Support Forum.