NWU researcher presents best paper at international conference
"We are born without choosing to be. Should we have to die in the same manner? Isn't it a human glory to refuse to accept a certain fate?" These are the questions that Don DeLillo's latest novel, Zero K (2016), explores.
Prof Adéle Nel from the School of Languages on the North-West University's (NWU's) campus in Vanderbijlpark presented a paper exploring these and other themes which earned her the award for best paper in linguistics at the International Conference of Literature and Linguistics (ICLL) that was recently held in Amsterdam in the Netherlands.
Her paper entitled "Frozen bodies, frozen words: life, death and language in Don DeLillo's Zero K", explores how the novel links the female character to death; the relationship between body, language and life; and the fact that words constitute our understanding of things and of ourselves, in the context of post-humanism.  
The underlying theme of Zero K is the so-called 'Antropocene epoch' – a new era defined by the human impact on ecological and even geological processes, and the idea that the world as we know it, is ending. The novel explores the possibility of a move from a natural world to one where humans jumpstart the transition to immortality through cryonic freezing.
In the novel, Jeffrey Lockhart, the narrator, is summoned by his father, Ross, to a mysterious compound, called the 'Convergence'. Ross's younger wife, Artis Martineau, is in the end stages of multiple sclerosis. The Convergence is a project and scientific movement whose mission is to stretch the boundaries of what it means to be human: to preserve life through cryonic freezing until a future time when biomedical advances and new technologies can return them to a life of transcendent promise. Halfway through the novel the perspective briefly shifts to Artis, the woman encapsulated in cryonic suspension, who is at the existential heart of the narrative, and her fragmented, koan-like thoughts: "But am I who I was." "I try to know who I am." "I am made of words."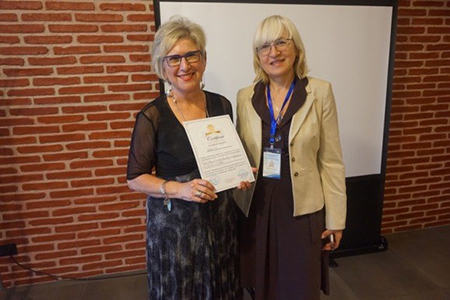 Prof Adéle Nel was presented with the award for best paper in linguistics by Prof Tatiana Ivushkina, a professor at Moscow State Institute of Foreign Affairs (MGIMO University) in Russia.