NWU researcher brings home 2018 Women in Science Award
The North-West University's (NWU's) Prof Ilani Loubser walked away with the Distinguished Young Women Scientist: Astronomy award during the 2018 South African Women in Science Awards (SAWiSA) ceremony.
The prestigious event, hosted by the Department of Science and Technology (DST) since 2003, took place on 23 August 2018 in Polokwane.
These annual awards recognise and reward the excellent work done by women scientists and researchers, and profile them as role models for younger women.
The theme of the 2018 edition of SAWiSA was "100 years of Mama Albertina Sisulu: Women united in moving South Africa forward".
Prof Loubser is an associate professor at the Centre for Space Research and also the subject chair of physics at the NWU's campus in Potchefstroom. Her research focuses on the formation and evolution of massive elliptical galaxies, with emphasis on the dominant galaxies in galaxy groups and clusters.
Her leading-edge observational studies, using telescopes such as the Southern African Large Telescope (SALT), the Gemini telescopes in Hawaii and Chile, and the Canada-France-Hawaii Telescope, led to her being awarded the 2017 Henri Chrétien Award for observational astronomy by the American Astronomical Society.
Prof Loubser is strongly committed to training the next generation of South African astronomers, and since 2010 has successfully mentored three postdoctoral fellows, graduated two doctoral and six master's students, and supervised eight honours projects, all at the NWU's Centre for Space Research.
Her current research projects put a strong emphasis on using and training students for South African research facilities, including the SALT and other Sutherland-based telescopes, the MeerKAT radio telescope, and ultimately the Square Kilometre Array.
Click here to watch a video of the awards ceremony.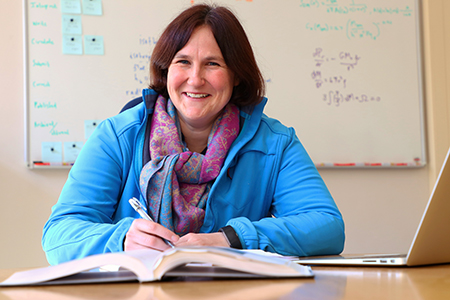 Prof Ilani Loubser.
#NWUWomen