NWU research book discusses racism, xenophobia and inequality
Researchers from the North-West University's (NWU's) Faculty of Theology recently published a research book, Togetherness in South Africa, discussing religious perspectives on racism, xenophobia and economic inequality.
The synopsis on the back page describes the book as a comprehensive critique on racism and its widespread, devastating effects in South Africa's history. The book was written from a Reformed perspective and its authors reflect on important Biblical principles and theological themes, including the role of the church.
The ten chapters were edited by Prof Koos Vorster, Prof Nico Vorster and Prof Jan du Rand, and published by the academic publishers Aosis. Academics from the NWU and other universities contributed to the book.
Dr Marichen Ann van der Westhuizen from the Department of Social Reform at the Huguenot College in Wellington describes it is a "courageous" and "open" book, touching on topics that people at grass-roots level think about. She is of the opinion that it is time for the faith community – as role player in society – to join the debate and provide leadership for the way ahead.
The book is available free of charge at www.books.aosis.co.za.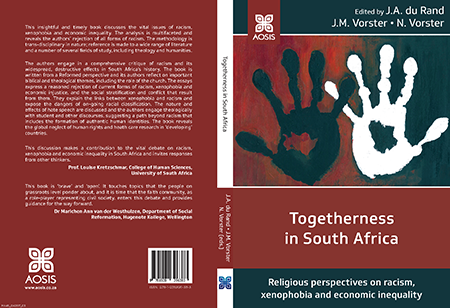 The cover of the book, Togetherness in South Africa.