NWU Professor takes a psychological peep into the 2020 class of learners
Due to the devastating effects of the global Covid-19 outbreak, uncertainty, worry, fear and anxiety have become the order of the day for many families – particularly for those with learners in schools, says North-West University (NWU) Humanities professor, Erhabor Idemudia.
This issue is again in the spotlight after President Cyril Ramaphosa's recent announcement of the second closure of public schools for four weeks.
The President announced that schools would close on 27 July and reopen on 24 August. He also specified that Grade 12 learners and teachers would return to class on 3 August, and Grade 7 learners would have a two-week break and return to school on 10 August.
Prof Idemudia says the recent closure of schools is a difficult decision the South African government had to make, and is in agreement with the opinion of the man on the street.
"Scientists have shown that teenagers (like adults) will spread the virus much more than children," says Prof Idemudia.
"The fear and worry of the public are valid, since this virus kills people irrespective of age and status, and is particularly dangerous to those with underlying illnesses and older people."
The South African Depression and Anxiety Group has suggested that the lockdown has evoked a range of emotions in South Africans, including anger and denial. According to the group these emotions are particularly prevalent in learners who have to face uncertainty and the added pressure to complete the academic year.
According to Prof Idemudia it is important, now more than ever, to support our learners during this difficult time and to help them cope with the uncertainty the covid-19 pandemic brings.
He suggests the following five ways of coping with fear and anxiety, as suggested by the World Health Organisation:
1.         Assess your own personal risk for contracting the Coronavirus.
2.         Try to limit your Coronavirus news consumption.
3.         Realize that it's OK to be worried about the Coronavirus outbreak.
4.         Follow the correct preventive methods to protect yourself against the Coronavirus.
5.         Remind yourself that you're doing the best you can in this situation.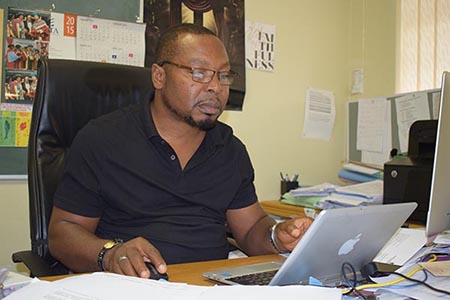 Prof Erhabor Idemudia is a research professor in the Faculty of Humanities at the NWU's Mahikeng Campus.