NWU prestige lecture focusses on eMental Health 
EMental Health technology can reach many people in need and can connect with people on issues affecting their health. However, this technology needs to be engaging to be of use. This is according to Prof Saskia Kelders, newly-appointed extraordinary professor at the Optentia research focus area on the North-West University's Campus in Vanderbijlpark, during her recent prestige lecture.
Technology has proven to be quite effective in reaching a large group of people. As a tool to bring positive psychology to the masses, it therefor lends itself to being an ideal channel for reaching people and bringing psychological interventions to them. 
Prof Kelders pointed out that technology poses many opportunities. Within positive psychology one may face a challenge where behaviour needs to be changed. Such a change certainly does not come easy and requires adequate motivation from intrinsic sources. Reminders and motivation from a Smartphone, wearable technology such as the Fitbit and web-based or other electronic tools that may be employed will certainly make the entire process easier, should we engage with and adhere to such wellbeing interventions.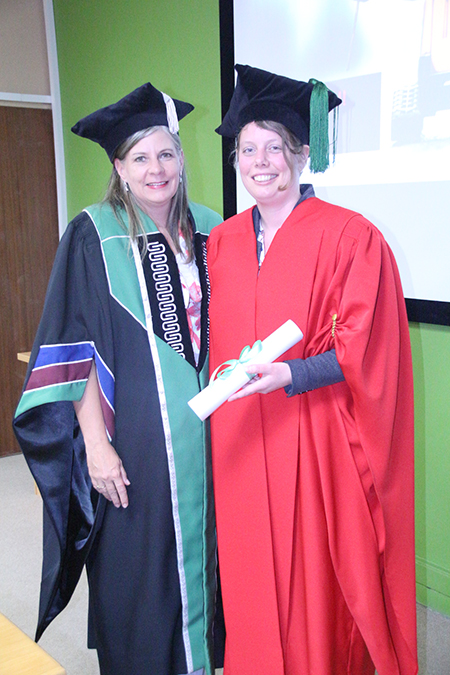 Prof Saskia Kelders recently delivered a public lecture on eMental Health. Here she is (on the right) with Prof Linda du Plessis, deputy vice-chancellor for strategic planning and Vaal Triangle Campus operations.
"It is important to distinguish between eHealth and eMental Health," continued Prof Kelders and explained that eHealth refers to supporting your health and wellbeing by means of technology focussing on physical health. "When we refer to eMental Health, we are referring to interventions that aid a general mental wellbeing." 
Prof Kelders said the context in which the user of such technological interventions will make use of is very important. It is of paramount importance that the researcher, psychologist or practitioner keeps the end-user in mind, considering where they live, how they live and how they use technology.
She acknowledged that the use of technology may not be the solution in every context. "When working in an area with limited internet access, the practitioner can still use technology, but maybe look at using a smaller app. Using an access point where the content may be downloaded or trying to limit downloadable content may solve the problem altogether," said Prof Kelders.
Personalised approach
"Technology influences different people in different ways," said Prof Kelders. She is of the opinion that if the level and way of engagement of the user can be measured, it may be a start to a more personalised approach. "We need to look at the way that people use technology and engage with interventions in order to create optimised individual interventions."
About the expert
Prof Saskia M Kelders is an assistant professor at the Department of Psychology, Health and Technology at the University of Twente, Enschede in the Netherlands. Her research interests are positive psychology, persuasive technology and digital interventions. Ongoing research projects are focused on using individual engagement to personalise eHealth interventions. The methods she uses include the analysis of log data, experimental studies and randomised controlled trials, among others. Examples of interventions Prof Kelders works on are web-based gamified interventions and mobile apps to increase wellbeing.