NWU PhD student presents exciting research to combat protein energy malnutrition
Adegboyega Taofeek Tope, a PhD student in the Faculty of Natural and Agricultural Sciences of the North-West University (NWU), received the first prize in two thematic areas for the best oral presentation during the 21st Symposium of the International Association of Research Scholars and Fellows (IARSAF).
The symposium took place at the International Institute of Tropical Agriculture (IITA) in Nigeria from 16 to 19 April 2018. It was attended by more than 100 African participants, and experts delivered papers and lead keynote speeches on the theme "Sustainable Graduate Research for Transformation of Africa's Agrofood and Industrial Utilisation".
Studying under the joint supervision of Prof Olubukola Oluranti Babalola from the NWU and Prof Michael Abberton from IITA, the title of Adegboyega's research is "Genetic diversity and nitrogen fixation in underutilised tropical legumes".
The focus of his study is to determine the variation in the nitrogen fixing capacity of underutilised tropical legumes; to analyse the nutritional and anti-nutritional factors limiting utilisation, to investigate the genetically related group of bacteria capable of nodulating legumes for sustainable agriculture.
Adegboyega's first paper was presented during the Biotechnology and Crop Improvement plenary session, and was titled "Nitrogen fixation, water use efficiency and C-assimilation in African yam bean estimated using 13C and 15N natural abundance". This paper focused on the evaluation of plant growth, nitrogen fixation and water-use efficiency in testing for legume drought tolerance and C assimilation. This research is specifically aimed at the genetic diversity of tested accessions in preparation for pre-breeding programmes in the African yam bean (Sphenostylis stenocarpa). This is also the first report on the use of isotopic studies in African yam bean.
Adegboyega presented his second paper under the Food and Nutrition Sciences thematic area with the title "Proximate and anti-nutritional composition of raw and processed seeds of underutilised legumes". The study objectives were to analyse the proximate (protein, carbohydrate, fat, ash, fibre and moisture) and anti-nutritional (tannin and phytate) compositions of selected accessions of African yam bean and the winged bean seeds. The high protein, carbohydrate and crude fibre contents of the African yam bean and winged bean could be of great importance. The seeds of the legumes could be incorporated into various traditional dishes for both adults and children to combat protein energy malnutrition, thereby contributing to food security in Africa.
Adegboyega is an emerging researcher, an executive member of IARSAF and the national general secretary of the Society for Underutilised Legumes. He is currently completing his doctoral fellowship at the IITA in Nigeria and compiling reports for publications.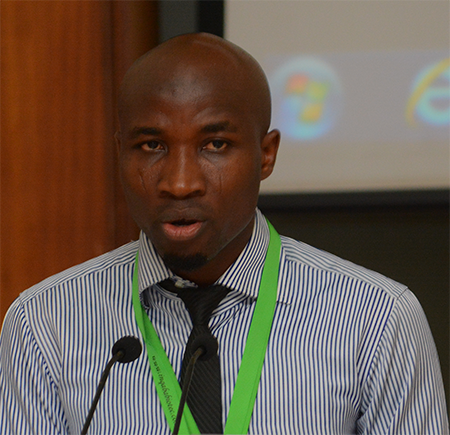 Adegboyega Taofeek Tope makes his presentation during the 21st Symposium of the International Association of Research Scholars and Fellows.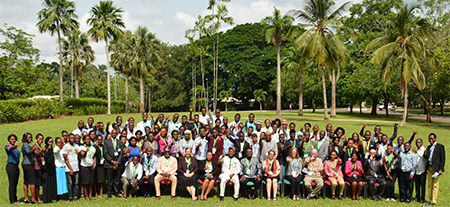 These are all the participants at the 21st IARSAF-IITA Symposium that took place in Nigeria.