NWU participates in African World Heritage Day commemoration 
The North-West University's (NWU's) Indigenous Knowledge Systems (IKS) recently took part in the two-day African World Heritage Day celebrations, hosted by the provincial Department of Rural, Environment, and Agricultural Development at the Taung Skull Fossil Site.
The theme of the celebrations was "Celebrating our African Heritage". The commemoration was organised to celebrate and strengthen partnerships between sustainable tourism development and cultural heritage conservation. It was also aimed at promoting awareness about the diversity and vulnerability of cultural heritage, and to encourage research and education about the Taung Skull Fossil Site.
NWU team members were Mr Koitsiwe, IKS lecturer, Mr Otsile, doctoral student in IKS, Ms Masuku, NWU Chancellor Medal recipient and heritage practitioner, and Ms Mmakamohelo, a master's student in physics. The team gave presentations on topics ranging from archaeology to cultural and scientific astronomy.
"The NWU team gave a sterling presentation," said Mr Koitsiwi. "This event afforded us the opportunity to engage with community members that are knowledgeable on the various aspects of culture, both on academic level and in practical day-to-day observations."
The celebrations were also attended by Hon Manketsi Tlhape, the MEC of Rural, Environment and Agricultural Development, Lebo Diale, chief director of the department, delegates from the South African Heritage Conventions Committee, African World Heritage Fund, the South African Heritage Resources Agency and various stakeholders from national and provincial government departments, district and local municipalities and local tribal authorities.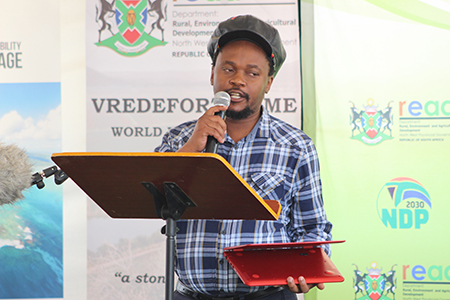 Mr Koitsiwe, NWU IKS lecturer, addresses the delegates during his presentation at the recent African World Heritage Day celebrations in Taung.