NWU Open Days: a chance to map your future
More than 10 000 prospective students and their parents attended the 2019 rendition of the North-West University's (NWU's) open days across its three campuses.
This year the event took place on 11, 18 and 24 May in Potchefstroom, Vanderbijlpark and Mahikeng respectively. 
In his welcoming address Prof Dan Kgwadi, NWU vice-chancellor, said that the annual open days are one of the most important events on the university's calendar.
According to Prof Kgwadi, these open days offer prospective students an opportunity to share first hand in realising the dream of the NWU – to be an internationally recognised university in Africa, distinguished for engaged scholarship, social responsiveness and an ethic of care.
"The aim of the open days is to inspire, and I trust that through your interaction with us, you will come to the conclusion that studying at the NWU will give you the best chance of lifelong success," said Prof Kgwadi.
He added that this year's theme – Open Your Future – reflects not only the NWU's intention to equip students with the knowledge, skills and attributes they need to be successful, but also refers to the experience and opportunities that will shape the next generation of responsive, innovative and socially mindful individuals.
In conclusion, Prof Kgwadi reminded the prospective students that the NWU is home to more than 65 000 students, representing a demographical footprint inclusive of more than 70 countries. He invited them to become part of this diverse community by enrolling for the 2020 academic year.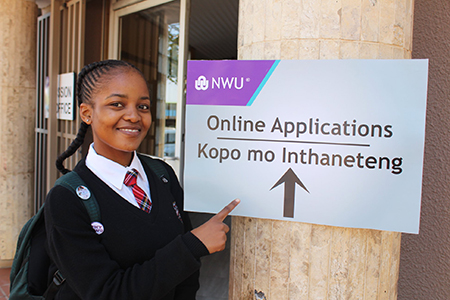 During the open days prospective students on the campus in Mahikeng were assisted in applying online for the 2020 academic year.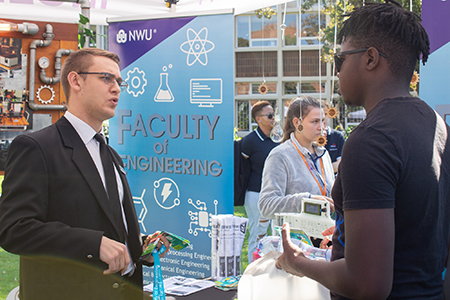 Prospective students had the opportunity to interact with representatives of all eight faculties.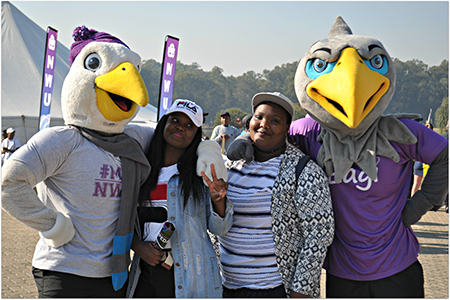 Mascots Vuvu and Eagi met up with prospective students during the open day in Vanderbijlpark.