NWU official opening paves the way for excellence
"We have embarked on our process of change and must adapt to this as we go along, as a dynamic environment such as the university necessitates continual change."
This is what Prof Dan Kgwadi, vice-chancellor of the North-West University (NWU) said during the official opening of the academic year.
"Our collective challenge for the 2018 academic year is the implementation of the new strategy," said Prof Kgwadi.
He urged students, staff and all stakeholders to appreciate the complexity that was involved in crafting the university's unitary vision and the challenges that came with it. "We will deal with these complexities because we are a most innovative university."
He said careful consideration should be given to key issues such as curricula transformation and the debate about  the decolonisation of higher education in South Africa. "I request you to interrogate the way we do things at the NWU. Together we must decide what builds unity, excellence and social justice. We must build on what is good and have the courage to change what is not."
The format of the official opening has changed to that of an academic opening, with a full procession of the congregation and an academic address on all three campuses. This address was delivered by Prof Robert Balfour, the deputy vice-chancellor for teaching and learning.
Prof Balfour delivered his address with a vision for excellence and social justice in teaching and learning and research transformation in 2018.
He touched on subjects regarding the transformation of the NWU to position it as a unitary institution, the commitment to quality education, the excellent enrolment figures for 2018 and the curriculum project at the NWU.
He said management will embark on a preparation plan with deans and faculties about the development of a new university enrolment plan that has to be submitted in 2019 for approval in order to be rolled out from 2020.
"This project will be characterised by two dimensions. These are the rapid transition to open distance learning provision; and the integration of online learning and information and communication technology."
• Read Prof Balfour's full address[11] .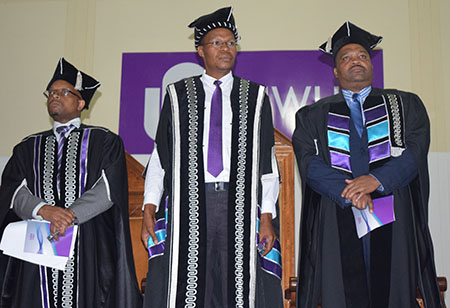 Mr Clement Manoko, executive director for corporate relations and marketing, Prof Dan Kgwadi, vice-chancellor and Dr Bismarck Tyobeka, chairperson of the NWU Council, attend the official opening on the campus in Mahikeng.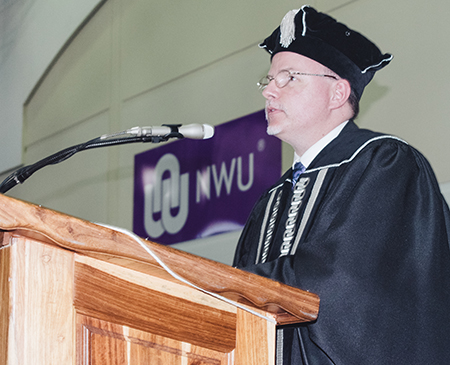 Prof Robert Balfour, the deputy vice-chancellor for teaching and learning delivers the academic address during the official opening.