NWU Nursing Science students donate posters to the ES le Grange School
Second-year Community Nursing students at the North-West University (NWU) campus in Potchefstroom recently reached out again to learners of the ES le Grange School.
The students held health-education sessions with the learners where they focused on, among other things, hand hygiene, exercise and healthy food. The students presented the sessions with wonderful fun and games and involved all the learners in this interactive way.Dr Tinda Rabie of the School of Nursing, Sr Stephani Botha and Sr Anna-Therese Swart started this initiative a few years ago and began to involve second-year students in this outreach programme.
This year the students also made posters about different topics that they donated to the school to display on the walls of the classrooms.Rabie says that they have built a special relationship with Sr Gwendo Snijman, Ms Hetta Barnard and the other staff of ES le Grange.
"The students really put in a lot of effort with the outreach action and we can only thank them for it."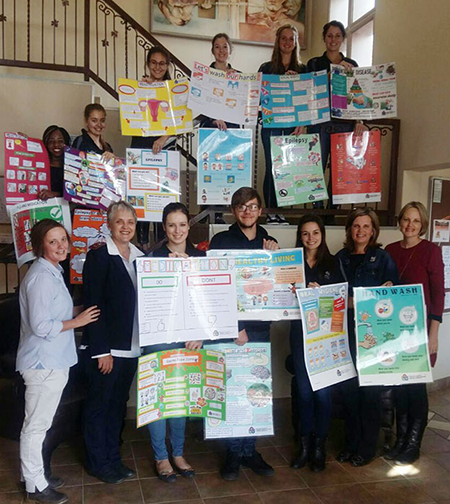 In front are Sr Stephani Botha and Sr Gwendo Snijman among the second-year students in Community Nursing with the posters that they made for the ES le Grange School. On the far right (in front) are Dr Tinda Rabie and Ms Hetta Barnard.