NWU: Mind (sports) over matter
You already know that sports are beneficial to your physical health. But did you also know that it positively affects your mental health? Mind Sports – a family of sports in which the objective is to test mental strength and prowess rather than physical strength – is proving to be a very popular sporting code on the North-West University's (NWU's) campus in Vanderbijlpark.
In fact, the campus enjoys national acclaim and recently won two gold medals and two silver medals at the national team trials.
More about Mind Sports
Mind Sports South Africa (MSSA), the national governing body of the sport, is an affiliate of the South African Confederation of Sport and Olympic Committee (SASCOV) and is recognised by the Department of Sport and Recreation (SRSA). The following disciplines and games are included under the jurisdiction of the MSSA:
•    Board games: Checkers, Morabaraba (also known as Mlabalaba), Sesotho Morabaraba
•    Card games
•    E-sports: FIFA 18, Tekken 7, Dota 2, League of Legends, Street Fighter, Counter strike Go. This discipline makes use of console gaming, mobile gaming, PSP gaming and Personal Computer gaming.
•    War games: War Hammer, Pike & Shot (1445-1700), Horse & Musket (1700-1845), World War (1939-1940)
•    Robotics
Sporting code going from strength to strength
Since the inception of Mind Sports at the campus in 2017, the sport has steadily grown in numbers and currently a total of 17 players are taking part in regional and national competitions. The club currently has 54 registered members. The club is captained by Thinane Samson and coordinated by Joseph Matlhong, a sports officer on the campus.  
During the Gauteng and North West provincial tournaments the campus was represented by two students in the board game division, four students in the Morabaraba division and 11 students in the e-Sports division (FIFA 18). The campus qualified in all divisions for the national team trials that will take place in June.
Two of the club members – Sibolelo Matlhabi and Siyabonga Mogale – has also obtained their provincial colours in Mind Sports.
Club members are currently busy preparing themselves for two events, namely: the national team trials and the Mpumalanga Championships. The national trials takes place on 5 and 6 May and will see Mapaseka Kananzi, Thinane Samson, Joseph Matlhong, Sibelelo Motlhabi and Siyabonga Mogale in action. The Mpumalanga Championships, taking place on 2 and 3 June, will see Mxondisi Dewa, Thapelo Sizane, Yu-Hisien Lin, Lehlohonolo Moloi and Katleho Mofokeng taking part.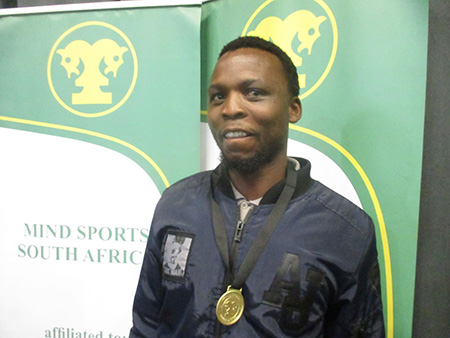 Joseph Matlhong, a sports officer at the Vanderbijlpark Campus, coordinates Mind Sports