NWU makes an impact during Special Sports Day
Excitement was the order of the day during the 2018 rendition of the Eureka School's Special Sports Day. The event saw more than 400 participants – some from as far as Bloemfontein and Secunda – taking part in the annual event for mentally and physically challenged youngsters. This year also saw the North-West University (NWU) joining in the activities on 31 August 2018.
Forty-three staff members from the Faculty of Education on the campus in Vanderbijlpark signed-up in numbers to assist on the day and the faculty also sponsored a medal for each participant. According to Prof Kobus Lombard, deputy dean of the faculty tasked with community engagement, the NWU's participation forms part of its overarching Mandela Day Champaign.
"We believe that every child matters and as such we proudly support the Special Sports Day initiative," explains Prof Lombard and adds that putting a smile on a child's face is one of the most rewarding experiences ever. He continues to say that he would ultimately like to see this collaboration between the NWU and Eureka School being sustained over the long-term.
This year saw 463 children – representative of 10 schools across South Africa – taking part in several events. These events include: walking with assistance (50 m, 80 m and 100 m), crawling, running, a wheelchair derby, goal kicking and goal shooting.
Prof Lloyd Conley, executive dean of the Faculty of Education, and Prof Linda du Plessis, deputy vice-chancellor for planning and Vanderbijlpark Campus operations, also took part in the event and joined members of the community in cheering the participants on. They also assisted in handing out medals.
The schools that took part in the event was: Janie Schneider, Lewenslig, ES le Grange, Lettie Fouché, Eureka, June Nicholls, Al-Munirah, The Hamlet, Felicitas, Marietjie and Unica School. The following sponsors contributed towards the success of the day: Maverick Spur – Three Rivers, Short Term Trust, the NWU, Fouché Motors and New Found Generation.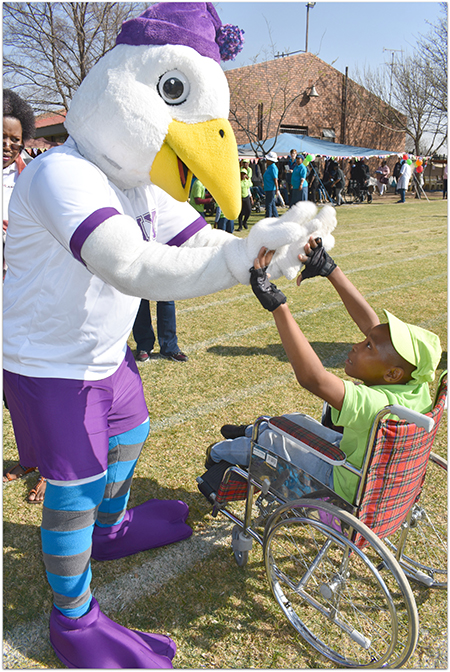 Vuvu, the NWU Vanderbijlpark mascot, interacts with one of the participants.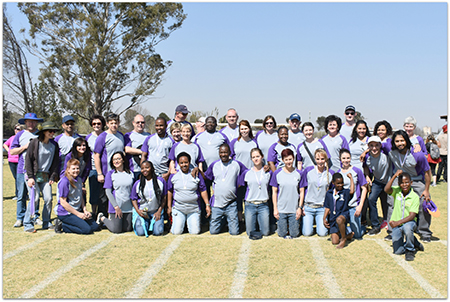 These staff members from the Faculty of Education took part in the Eureka School Special Sports Day.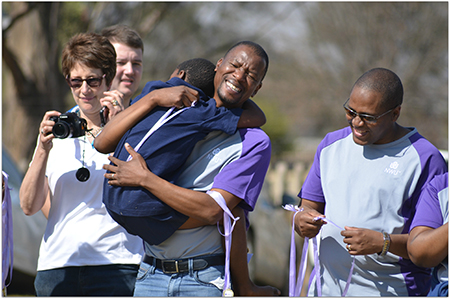 Each participant received a medal, sponsored by the NWU.