NWU Law students soar in annual competition
The North-West University's (NWU's) Faculty of Law, in partnership with South African legal publishing entity JUTA, hosted the annual Mock Trial Competition at the Mahikeng High Court.
This year eight groups of second- and third-year students from the three NWU campuses made it to the semi-final of the competition.
The Juta Mock Trial competition is the brainchild of Adv René Koraan, a lecturer at the Faculty of Law on the campus in Potchefstroom. She sees it as an opportunity for second- and third-year students to gain much-needed courtroom experience. She started the competition in 2011, and since 2014 it has grown into an inter-campus competition.
This year, Orabile Boikanyo, Gugu Msomi, Teboho Madibo and Karabo Dikhuba – second-year students from the campus in Mahikeng, were announced the victors. Appearing as the defence, they secured the win by casting doubt on the events as described by a state witness who claimed she was assaulted when her husband grabbed and hit her after a night of drinking. Appearing on behalf of the state were third-year students from the campus in Potcheftsroom - Yudians Phoku, Simbongile Siyali, Danny Hlapolosa and Duduzile Dube.
Prof Stephen de la Harpe, executive dean of the Faculty of Law, said more than 300 students across the campuses voluntarily registered for the competition this year. "It is an opportunity to foster a passion for the law and it is an important event for the faculty, as it brings students from all campuses together. It is one of the highlights of the faculty calendar."
Delivering the closing address, Prof Dan Kgwadi, the NWU vice-chancellor, congratulated all the participants in this year's competition. He also stressed the need for a balanced curriculum which affords students the necessary theoretical exposure, as well as incorporating a practical aspect to bring to life what students are taught in lecture halls.
After announcing the winners the presiding officer, High Court Judge Tebogo Djaje said: "It is amazing that students are able to prepare and address judges on cases. It is often only expected from practicing attorneys. This speaks to the quality of education they receive at their institution, and I hope to see these young people arguing real cases in court soon."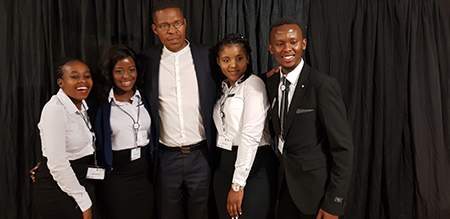 Prof Dan Kgwadi, the NWU's vice-chancellor, and the second-year students from the campus in Mahikeng who were announced the victors of the Mock Trial Competition.