NWU IKS Centre celebrates African Traditional Medicine Day
Several Indigenous Knowledge Systems (IKS) students from the North-West University's (NWU's) campus in Mahikeng made their way to the village of Moshana located 60 km outside Zeerust on 31 August 2017. This is where the North West Dingaka Association (NWDA) had chosen to mark and celebrate African Traditional Medicine (ATM) Day.
The theme chosen for this year's celebration by NWDA was "Boloka Boswa", highlighting their attempt to encourage the preservation of medicinal raw materials and the knowledge associated with it. The event was sponsored by the North West Department of Arts, Culture and Traditional Affairs, and included music and Setswana traditional dances by Bahurutshe groups ranging from makgarebe le makawana to botlhogoputswa.
Students were treated with various various traditional health practitioners in their regalia, and presentations by dingaka on different topics regarding medicinal plants.
"One of the things that most people are unaware of is that the Batswana has conservation principles for medicinal plants," said Dr Gearge Sedupane, a lecturer at the IKS Centre and indigenous and natural medicine specialist. "For example, certain plants may only be picked during certain seasons, or times of the day. Ms Magodielo, one of the IKS's master's students is doing her research on these conservation strategies and she has been able to document at least seven strategies to date."
"Several undergraduate and postgraduate students are doing research on aspects of Batswana traditional medicine. In many respects these students are engaged in pioneering work. In South Africa Setswana medicine is among the least researched, and the IKS Centre is ideally situated to remedy this defect. We are grateful to Mr Mooki, the Mafikeng NWDA chairperson, for facilitating the growing collaboration between the NWDA and the IKS Centre. With this partnership and adequate support, we look forward to launching books, products and services based on Setswana traditional medicine during subsequent ATM days," added Dr Sedupane.
African Traditional Medicine Day was established to promote the use of indigenous medicinal plants, combined with aspects of African spirituality.
According to statistics, approximately 80% of Africa's population relies on traditional medicine for their basic health needs. In many cases, traditional medicine is the only healthcare service that is available, accessible and affordable to people on the continent.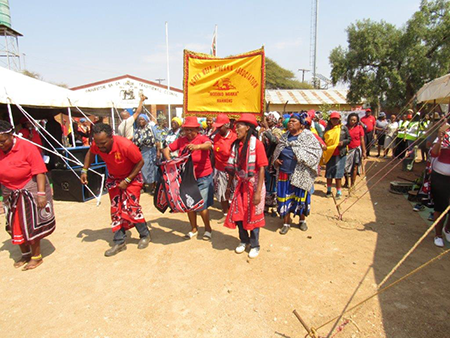 Members of the North West Traditional Doctors Association attended the event.