NWU hosts its second Autism symposium
Autism affects one in 68 children, and the earlier it is diagnosed, the more effectively it can be managed. The Institute for Psychology and Wellbeing at the North-West University's (NWU's) campus in Potchefstroom is helping to raise awareness by hosting its second Autism Symposium. It will be held at the Dawie du Plessis Lecture Hall on 29 and 30 June, focusing on autism awareness and effecting change.
This year's symposium follows on the very successful 2016 symposium for healthcare providers, educators, social workers and parents. According to Hanlie Degenaar, speech and language therapist at the NWU, the large number of registration applications received for last year's symposium confirmed the need for this important symposium.
The 2017 symposium, which the NWU and Autism South Africa are jointly hosting, is another chance for stakeholders to come together to connect, share and learn from experts.
Expert speakers, wide spectrum of topics
The impressive line-up of experts includes Sandra Usswald, national director for Autism South Africa; Dr David Griessel, pediatric and neurodevelopment specialist; Dr Carla Groenewald, specialist child and adolescent psychiatrist; Prof Juan Bornman, Director of the Centre for Augmentative and Alternative Communication; Thembeka Mnguni, a parent and popular contestant on The Voice 2016; Christel van Eeden, executive director of North West Mental Health; Marie Schoeman, chief education specialist for inclusive education at the Department of Basic Education, SA Guide Dogs and Thando Makapela, regional development officer at Autism South Africa. There will also be many specialists and researchers from various universities in South Africa, and parents.
Topics range from causes, mechanisms, treatments, accommodation strategies and empowerment to communication tips, people games and routines, among others.
Autism spectrum disorder (ASD) and autism are general terms for a group of complex disorders of brain development. ASD is a developmental disability and people with ASD may communicate, interact, behave and learn in ways that are different from most other people.
The learning, thinking and problem-solving abilities of people with ASD can range from gifted to severely impaired. Some people with ASD need high support (a lot of help and intensive intervention) while others need low support.
The number of children affected is believed to be increasing. ASD symptoms are evident very early on in children, and it is widely accepted that earlier intervention is better.
For more information, contact the NWU's Institute of Psychology and Wellbeing on 018 299 1739 or email hanlie.degenaar@nwu.ac.za.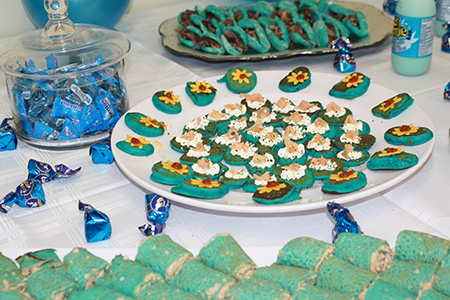 Autism South Africa uses the colour blue for all their campaigns, matching the international awareness drive. Among others, a blue tea was hosted as part of the events to raise awareness.