NWU hosts annual book exhibition
The North-West University's (NWU's) campus in Mahikeng hosted its annual book exhibition from 27 to 31 July 2018.
The main exhibition took place at the campus library, and numerous books were also on display at various faculty venues.
The focus of this annual exhibition was on accessing academic text and developing a book culture among students and staff. The exhibition also plays a crucial role in assisting the library to achieve its purpose of supporting teaching, learning and research. It In addition, it assists lecturers in various faculties to select books that are relevant to their subjects, thereby allowing the library to develop relevant collections.
"Developing a learning culture is at the core of the main function of a library," says Ms Molly Kekana, a campus library staff member and exhibitor. "An event such as the book exhibition allows the library to bring together book suppliers and the reading community in and around the campus. Students and staff are encouraged to take part in the exhibitions as it allows the library to update its literature to suit the ever-changing needs of its users."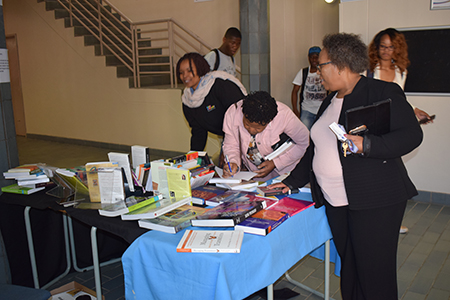 Prof Marilyn Setlalentoa, the deputy vice-chancellor for operations on the campus in Mahikeng, visits one of the book exhibition stalls.