NWU honours pioneer botanist
The North-West University (NWU) has given one of their botanists a 70th birthday gift that will live on for future generations.

The NWU named the herbarium on its campus in Mahikeng after botanist Sello David Phalatse, who played a crucial role at the School of Biological Sciences if the former University of Bophuthatswana, now the NWU.
Sello described this gesture as one of his best birthday gifts. This decision was made two days before his 70th birthday on 20 September this year.
Sello was the first black South African to qualify as a botanist at the University of the North in Limpopo.
"Sello established the herbarium in 1983 and acted as the first curator," says Prof Pieter Malan, head of the subject group Botany at the NWU. "He provided the majority of the specimens currently housed in the herbarium. Sello contributed much to the development of biology on the campus and also acted as head of the subject group."
According to Prof Malan a herbarium is very important for conservation and the classification of plants. "If you don't know a particular plant, a herbarium is the right place to look for it."
Sello says he appreciates the fact that his contribution is being acknowledged now while he is still alive; something he believes should be practised more often.
Sello encourages students and the public to respect the environment, especially plants. "Plants are not boring, they are actually live savers," he says, referring to the oxygen they produce.
Now retired, Sello says he has one more wish - for a botanical garden to be established on the grounds of the campus in Mafikeng.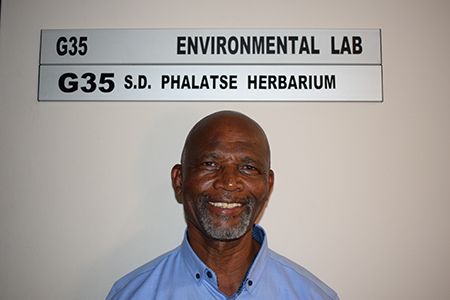 Sello David Phalatse poses in front of the herbarium which now bears his name.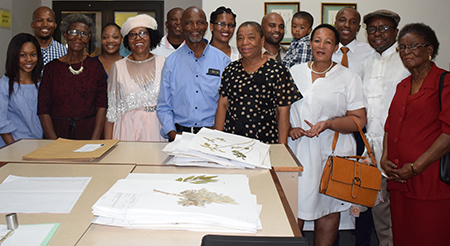 Sello David Phalatse with his wife, sisters and children at an intimate function to celebrate the official naming of the herbarium after him.