NWU honours medical pioneer
The North-West University's (NWU's) campus in Mahikeng conferred an honorary doctorate to seasoned cardiologist, author and academic, Prof Kubedi Patrick Mokhobo, during its recent spring graduation ceremony.
Prof Mokhobo is credited for being the first African cardiologist in African countries such as Swaziland, Lesotho and South Africa., as aptly recorded in his biography titled From Nowhere to Somewhere. It further elaborates about his extensive contribution in the field of cardiology, as well as his devotion to serving indigent people through provision of access to affordable medical care.
Prof Mokhobo was instrumental in the reorganisation of mission hospitals into state-owned facilities, including the reorganisation of Bophelong Psychiatric Hospital into the now Mahikeng Provincial Hospital. Among his many remarkable contributions, worthy of mentioning is his initiation of a nursing practitioner programme that formed the basis of the training offered by the South African Nursing Council.
His contribution further extended to teaching and learning in health sciences, in particular the nursing department of the former University of Bophuthatswana (now the NWU).
"The field of medical practice reminds us that for humanity to progress further, we need the support and care of one another," said Prof Mokhobo. "This is a true honour and humbling experience for one who has devoted his heart to a life of serving – whether as a medical practitioner or as an academic. I wish to thank the university for honouring my work in this fashion. It is humbling experiences such as these that spur me on to continue working harder in serving the people of this country."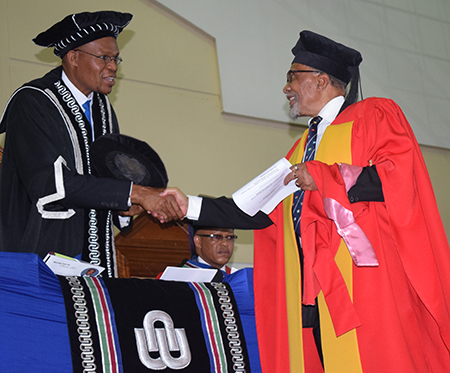 Prof Dan Kgwadi, the NWU vice-chancellor, confers an honorary doctorate on Prof Kubedi Patrick Mokhobo