NWU honours its best of the best
The North-West University (NWU) honoured the cream of the crop of its alumni at an awards ceremony on 6 October in Sandton. This year's awards ceremony included the prestigious NWU Lifetime Achievement Award, and also recognised an NWU alumna who has excelled in the international arena in 2017.
The coveted Lifetime Achievement Award went to the former rector of the then Potchefstroom University for Christian Higher Education (PU for CHE), Prof Tjaart van der Walt. Prof Van der Walt served in this capacity from 1977 to 1987 and completed a BA degree at the university in 1951. It is the third time that this prestigious award has been given in recognition of exceptional achievements. Previous recipients include former president, Mr FW de Klerk and former vice-chancellor of the NWU, Dr Theuns Eloff.
Other renowned alumni who were honoured include a cultural leader, a successful entrepreneur, a renowned theologian, a ground-breaker in education, a dynamic lawman, a revered researcher, an exceptional journalist and a coaching expert.
 Alumni winners
Prof Tjaart van der Walt, former rector of the PU for CHE and exceptional leader, Lifetime Achievement Award
Dr Frits Kok, cultural bridge-builder and influential member of the Afrikaans Language and Culture Organisation (Afrikaanse Taal- en Kultuurvereniging - ATKV), Arts and Culture Award
Mr Tamsanqa Manzi, successful entrepreneur and job creator, Community Involvement Award
Prof Koos van Rooy, theologian, missionary and Bible translator, Community Involvement Award
Prof Kobus Pienaar, author and highly regarded expert in education, Education Award
Dr Sejako Senatle, people's lawyer and dynamic lawman, Public Service Award
Prof Rudi van Eldik, revered researcher and scientist, Research Award
Dr Elsje Jordaan, well-known sport coaching specialist and pioneer in using digital platforms to analyse match trends, Sport Award
Ms Daniëlla van Heerden, award-winning journalist, Young Alumnus Award.
Miss South Africa, Demi-Leigh Nel-Peters, is the recipient of this year's NWU Ambassador Award for representing the university and South Africa in the international arena.
Prof Dan Kgwadi, vice-chancellor of the NWU, said the institution had been repositioned as a unitary university with a focus on academic excellence and social justice.
"We continue to be one of South Africa's top universities and have a significant role to play in developing our country."
Earning the loyalty of alumni
Prof Kgwadi said that the university was changing for the better. "At the core, we retain the best of all our historic components from which the NWU was forged. Whether you studied at the old University of Bophuthatswana or the University of North West or the Potchefstroom University for Christian Higher Education, or since 2004 at the North-West University, you are all our alumni and NWU is your alma mater."
He emphasised that the NWU will never take the loyalty of its alumni for granted and will continue to earn it.
"While working to achieve success in a changing environment we look to our alumni to be our role models in many fields. Your success inspires and invigorates us. May we all strive to be role models, for our future success will not be built on strategy documents but the inspirational leadership and example of individuals."
For many years now, NWU alumni have been making their mark – not only in South Africa but also internationally. 2017 marks the fifth year of the prestigious NWU alumni awards.
2017 is a milestone year for the NWU, and with its new strategy firmly in place, the university is reaching for new heights in the education sector. This year's Alumni Award winners are proof that the NWU delivers graduates of exceptionally high calibre. It will carry on doing so as it gears up for a new and exciting chapter, and as it continues to make significant contributions to South Africa and the world.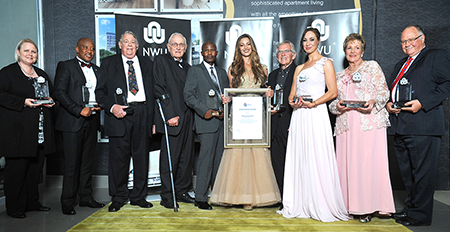 This year's recipients of the NWU's coveted Alumni Awards are Ms Minettte Dempsey (on behalf of Dr Elsje Jordaan), Mr Tamsanqa Manzi, Prof Kobus Pienaar, Prof Koos van Rooy, Dr Sejako Senatle, Miss South Africa Demi-Leigh Nel-Peters (NWU Ambassador Award), Prof Peter van Eldik (on behalf of Prof Rudi van Eldik), Ms Daniëlla van Heerden, Ms Hannie van der Merwe (on behalf of Prof Tjaart van der Walt) and Dr Frits Kok.
Enquiries:                  Willie du Plessis: 082 590 0692
                                    Corporate Communication, NWU
Date:                            9 October 2017