NWU has rich harvest of doctorates
A total of 108 doctorates, 484 master's degrees and two honorary doctorates were awarded during the autumn graduation ceremonies of the North-West University's (NWU's) campus in Potchefstroom.
An internationally renowned economist and a legal expert on customs and excise legislation - Prof Ludo Cuyvers from Belgium and Adv Altus Joubert SC – received the honorary doctorates.
Twenty-four of the doctoral graduates come from foreign countries such as Kazakhstan, Germany, England, the United States of America, Canada, France, Hong Kong, Nigeria, Tanzania, Mozambique, Zimbabwe and Swaziland.
The oldest recipient of a doctorate was Dr Coenraad Bezuidenhout (83), who completed his thesis on the historical development (1652 to 2014) of hunting legislation and regulations for game that may be hunted in South Africa, as well as the need to protect and preserve the untamed wilderness.
Another exceptional achievement was that spouses Anzel Falch (chemistry) and Ernst Kleynhans (chemical engineering) both received their degrees. They also completed their undergraduate studies at the NWU.
The leader of the Democratic Alliance in the Free State, Dr Roy Jankielsohn, also received his doctorate in political studies at one of the ceremonies. The title of his thesis is "The national democratic revolution and the transformation of land tenure in South Africa".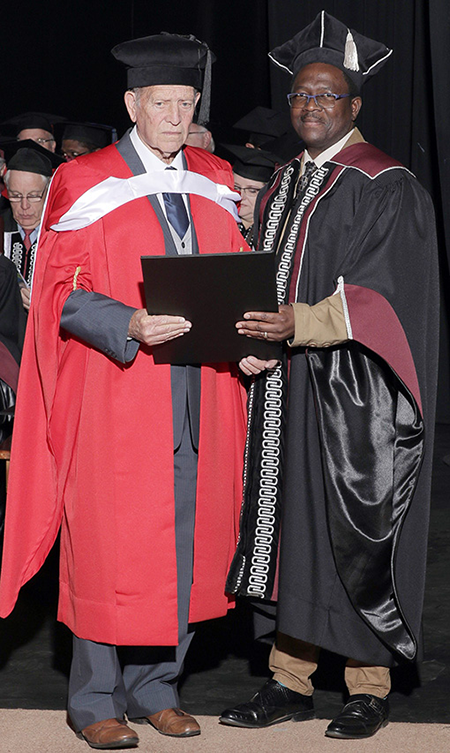 Dr Coenraad Bezuidenhout (83) receives his doctorate from Prof Rantoa Letŝosa, vice-rector for teaching-learning on the campus in Potchefstroom.