NWU gives his dreams wings
Speed, technology, adrenalin and the scent of rubber are all part of the dream of Shaun Botha, a master's-degree student in mechanical engineering at the North-West University (NWU).
This will not remain a dream, however, as Shaun is equipping himself with the necessary expertise to help him achieve his dream to one day make a difference in the technology of the sports car industry.
As part of his practical experience up to now Shaun was part of the famous NWU Solar Car team in 2016, 2017 and 2018. Every year since 2012, engineering students and lecturers at the NWU have been building a new solar car to take part in national and international races.
The most recent version of their solar car, the Phoenix, took part in the exhausting Sasol Solar Challenge over a distance of around 4 000 km last year. In this competition teams from around the world design and build solar cars to take part in the eight-day event across South Africa. The race started in Pretoria on 22 September and was completed in Stellenbosch, where nine local and international solar cars chased the sun and one another.
The NWU's Phoenix competed against four other South African teams, as well as competitors from Japan, Hong Kong, the Netherlands and Switzerland. They crossed the finishing line as the second South African solar car and completed the race in the overall fifth position.
Shaun provided technical support to the team in 2016, and during the 2017 Bridgestone World Solar Challenge and the 2018 Sasol Solar Challenge he was one of the drivers of the vehicle. "I am very passionate about motor sport. Even as a little boy I was fascinated with this sport. It is the only thing that I want to do," says Shaun.
He found taking part against international competitors very exciting. That was when he decided to give his dreams wings.
 "For my master's degree I conduct a lot of research about layer manufacturing, commonly known as 3D printing," explained Shaun. "I have gained a lot of experience in manufacturing techniques, especially as I could work with carbon fibre. I learnt a lot about the procedures that need to be followed to manage such a project and to make it work.
 "Because I am studying in a rapidly changing area like layer manufacturing, I hope to one day follow a career in the sports car manufacturing industry where I can realise my passion. That will be my wildest dream coming true," he says.
Shaun has great appreciation and praise for the expertise in the NWU's Faculty of Engineering. "I have a very good relationship with my lecturers, and two of the lecturers who were involved in the solar car are now my postgraduate supervisors. We understand each other!
 "The expectations are high, but I know which outputs I am pursuing and that they are within my reach. One of the greatest lessons that my lecturers taught me up to now is that hard work is always rewarded. One not only learns about engineering practices here, but also about interpersonal relations and life skills. This is the place that affords me the platform, knowledge and skills to dream even bigger dreams. I cannot wait for what the future holds," says Shaun.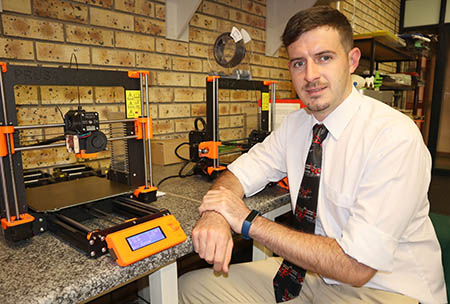 Shaun Botha dreams of working in the sports car industry one day.