NWU gird their loins for encounter with tournament log leaders
Following their much-needed recent win against the University of Johannesburg (UJ) (putting them in third position on the 2017 Varsity Football tournament log), the North-West University's (NWU's) varsity football team is preparing to take on the Tshwane University of Technology (TUT) on 7 September 2017 in their quest to seal their place in the semi-final.
The NWU will go into this encounter with three wins, two loses and a draw, amassing a total of 10 points.
TUT will approach the next match with five wins and one draw. This performance places them at the apex of the log with 16 points in the bag.
"We are aware of the mammoth task ahead," says NWU coach, Amos Xabanisa. "Our resolve as a team thus far in the competition is to be mentally strong, physically fit and to keep our spirits high through the training process ahead of the next match. Our boys have the motivation and determination to pull us through."
While the NWU aims to break TUT's unbeaten winning streak in this year's tournament and possibly settle old scores, TUT will certainly go into the game with the sole aim of maintaining their 2017 Varsity Football tournament apex predator status.
One thing is certain, there will emerge one winner at the end of the match and who that will be is a closely held secret.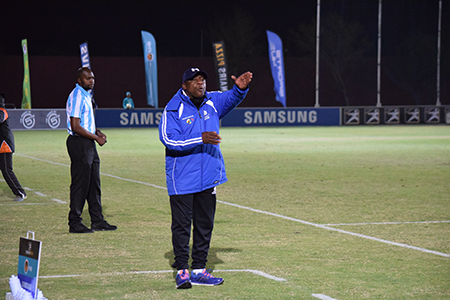 NWU coach Mr Amos Xabanisa giving command to the team during their game against UJ.