NWU to fly flag high at international honours society summit
The Mahikeng chapter of the North-West University's (NWU's) Golden Key International Honours Society is gearing up to attend the Golden Key New Jersey City 2018 Leadership Summit.
The summit will take place from 29 June until 1 July 2018 in New Orleans, Louisiana, in the United States of America.
The NWU Golden Key team will be represented by Thulani Phakathi, a PhD student in Computer Science and chapter graduate advisor, and Menelisi Ncube, a LLM student and current chapter president.
"The New Orleans Leadership Summit connects Golden Key International Honour Society members and provides students, alumni and academic and support staff the opportunity to learn from each other and become part of a vast network that spans the country and beyond," says Thulani. "This is an opportunity to learn from one another and formulate solutions to various challenges needing urgent intervention in society."
Golden Key is an internationally recognised, non-profit organisation affiliated with over 400 universities throughout Australia, Canada, India, Malaysia, New Zealand, South Africa, The Bahamas and the United States. It is the world's largest honour society and is a mission-focused, values-based and demographics-driven organisation.  With 36 years of rich tradition, Golden Key remains committed to scholarship, career development, leadership and community service. Golden Key South Africa started in 2000 and touched the lives of more than 70 000 South Africans.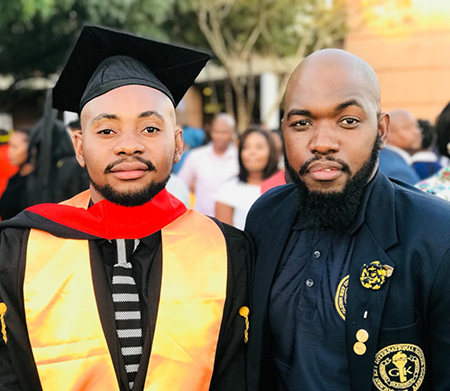 Menelisi Ncube and Thulani Phakathi will represent the NWU at the Golden Key New Jersey City 2018 Leadership Summit.