NWU first to host disciplinary hearings online
The Covid-19 pandemic has forced courts and institutions across South Africa to embrace digital platforms with unprecedented haste – also for legal proceedings.
Taking the lead, the North-West University (NWU) is one of the first institutions in the country to host their disciplinary hearings online.
Student Judicial Services on the Vanderbijlpark Campus has recently successfully hosted two virtual hearings for drug trafficking and domestic violence.
According to Ujeet Maharaj, pro forma prosecutor and head of student discipline on the campus, online hearings will soon also be conducted on the Mahikeng and Potchefstroom campuses.
All university disciplinary hearings are regulated by various stringent protocols that are in line with the Constitution of South Africa, the Higher Institution Education Act, administrative law, and the NWU's Statute and Rules for Student Discipline.
These hearings always consist of a committee that includes chairperson Adv Tshepiso Mphahlane, Ujeet, two internal assessors and one external member.
"A lot of planning goes into hosting a successful virtual hearing, and I am proud to say that other institutions have since been in contact with the NWU for benchmarking purposes," says Ujeet.   
He adds that, although there are challenges such as load shedding, connectivity and data, the benefits of hosting these proceedings online outweighs the negatives.
"I foresee that the NWU will host more virtual hearings in the near future, and that these may become a useful alternative to physical meetings."
Ujeet thanks all NWU colleagues who played a role in making history by hosting a very successful online hearing.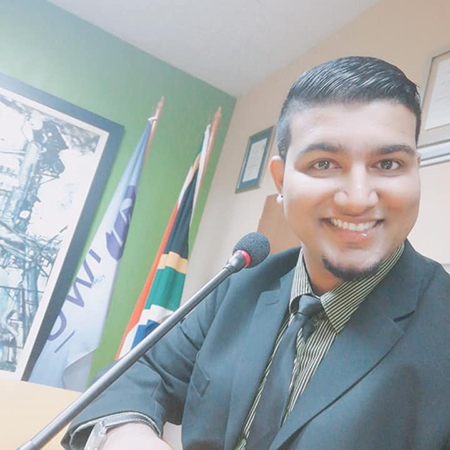 Ujeet Maharaj is the pro forma prosecutor and head of student discipline on the NWU's Vanderbijlpark Campus.