NWU finishes fifth in race against the sun
The North-West University's (NWU's) solar car, Phoenix, recently returned to home base after a gruelling race over 4 000 km during this year's Sasol Solar Challenge.
For this eight-day event, teams from across the world design and build solar-powered vehicles to drive across South Africa.
The journey started in Pretoria on 22 September and recently finished in Stellenbosch where nine local and international solar cars chased the sun and each other.
Phoenix competed against four other South African teams and competitors from Japan, Hong Kong, the Netherlands and Switzerland. They crossed the finish line as the second South African solar car to complete the race and in fifth place overall.
The teams competed to cover the most distance, following a set route each day. They also completed additional shorter rounds at each day's destination with the power they had left in their battery packs.
According to Arno de Beer, the NWU's technical manager, the team put on a gutsy, spirited performance in difficult conditions. He is very proud of their accomplishments. "Strong winds and overcast weather, together with Heritage Day traffic, had teams on the back foot. We were not able to improve on our 2016 performance of 3 524 km, but still managed to cover a distance of 2 276 km," he says.
"We have rebuilt our previous solar car, the Naledi (which competed in the 2017 Bridgestone World Solar Challenge) but this year, luck was not on our side. We struck a pothole on the first day of the race that caused damage to the car's front and rear suspension."
Arno says strong winds had a huge impact on the car's performance. "The car only weighs 189 kg, and it doesn't take much from the wind to give us a hard time.
"I wish to to thank our main sponsors, the Technology Innovation Agency and Growthpoint. Without their assistance our participation would not have been possible."  
The Dutch Nuon Solar Team won the 2018 Sasol Solar Challenge - Challenger Class for the third time in a row. Second place went to Japan's Tokai University Solar Team, and third to the Swiss Solar Energy Racers.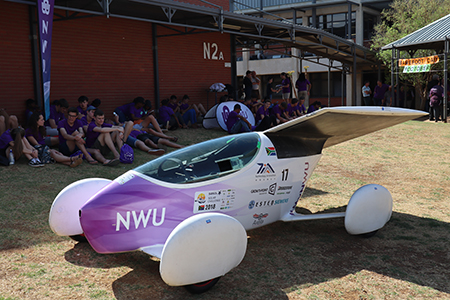 The NWU's solar car, Phoenix, performed well during this year's Sasol Solar Challenge, despite various setbacks.