NWU examines free online access
In the ever-changing world of emerging technologies, the North-West University (NWU) is looking at publishing its research differently to keep up with the times.
Prof Refilwe Phaswana-Mafuya, the deputy vice-chancellor for research and innovation, invited Dr Pierre de Villiers, managing director of AOSIS publishers, to present the sixth public lecture in the NWU Research and Innovation Seminar Series on 14 May 2018.
NWU academics and students came out in their numbers to listen to the thought-provoking lecture titled "Scholarly Books – the New Frontier" and to gain insight into how they can adapt to the ever-changing academic and technological environment.
"This lecture is crucial and will prove to be beneficial for the research output and the core business of the NWU," stated Prof Phaswana-Mafuya during her welcome speech.
Open access is the way to go
AOSIS publishers works hand-in-hand with institutions to empower African communities through free online access to information and knowledge.
According to Dr De Villiers there are two models in which scholarly books and journals can be published: the traditional model and the new frontier – an open-access model. Within the traditional model there is a pay wall, which prevents the end-user from accessing information for free. The open-access model allows the end-user to obtain the information and knowledge at no charge. 
Apart from free access, another advantage of open-access publishing of scholarly books is that open-access publications contribute to improved research impact, as they tend to get three times more citations than books behind a pay wall. "In the humanities scholarly books also have a longer citation life, and are valued higher than scholarly articles as a mode of research dissemination," said Dr De Villiers.
Dr De Villiers stated that institutions are approaching a tipping point where they could cancel their subscriptions to pay-walled periodicals, since half of all journal articles that were published after 2015 are already available online at no charge. He added that at least 28% of all scholarly literature is now openly accessible.
In addition to this, the Department of Higher Education and Training also implemented a new Research Output Policy in 2015 that aims to encourage academics to publish more scholarly books.
The main challenge to make open-access publication of scholarly books possible is funding. Since no books are sold in the open-access model, the publication cost must be recovered by the publisher through a once-off publication fee (much like page fees in open-access journals). Dr De Villiers suggested that universities should provide seed funding to cover publication fees for open-access books, as they will get an excellent return on investment, financially and through greater research visibility and improved research impact.
Dr De Villiers encouraged NWU staff members to work together and to collaborate with individuals from other institutions to publish open-access scholarly books. "Universities that do not capitalise on publishing books will lose out on their market share," he concluded.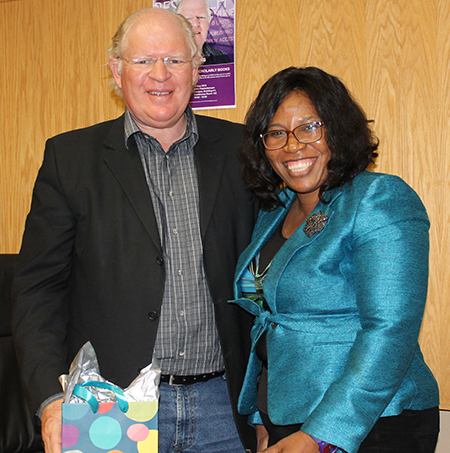 Dr Pierre de Villiers, managing director of AOSIS publishers, and Prof Refilwe Phaswana-Mafuya, deputy vice-chancellor for research and innovation, at the recent public lecture.